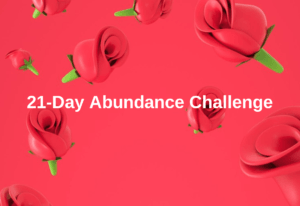 The intention of the 21 Days of Abundance Tasks on WhatsApp for conscious female entrepreneurs is to:
Being a contribution to the world with your business

Attract Abundance for you and your business
Create a mindset of gratitude, being a contribution to the world with your business and abundance
Experience WIN-WIN-WIN situations between you, your customers, and the entire universe
Build a habit of a daily guided, which you will receive as a present for the completion of every task!
Apply for free to the
for conscious female entrepreneurs and
---
Welcome to the 21-day challenge creating abundance in your self-employment. I am very happy that you decided to embark on this journey. Finally, it will lead you into stillness and silence to experience authentic abundance consciousness with a focus on your business. Over the next three weeks, we will focus on different aspects of abundance. Consequently tailored for female entrepreneurs.
The 21 Days of Abundance Tasks on WhatsApp for conscious female entrepreneurs contains:
Week 1

In the first week, we will consider the promise of your unlimited entrepreneurial potential. During this time, we learn what true abundance is:

The infinite source from which you and your business can grow.
How consciousness and the mind affect its development.
Finally, we will embody, how we can deeply understand how abundance is a divine right.
Week 2

During our second week, we will show how abundance relates to the seven spiritual laws of success.

Beginning with the law of pure potentiality.
What exactly is possible?
And ending with the law of karma?
Further, how to increase abundance in our life, by serving humanity with our unique skills and talents.
Week 3

In our third week, we contemplate the practical aspects of abundance. True living in abundance as our natural state of being.

During this time we will explore the depth of synchrodestiny.
As well as, consciously manifesting our destinies by harnessing the power of intention meaningful coincidence.
As a result, we will discuss the importance of living gratefully.  Gratefulness that leads to customer relationships. Which are carefree, with love, and unity. Finally, to create an environment of abundance in your business.
Receive a daily reminder for your 21 Days of Abundance Tasks on WhatsApp!
It takes 21 days to form a habit, as Maxwell Maltz published 1960 in his book "Psycho-Cybernetics". That's why this Abundance Challenge for conscious female entrepreneurs will take 21 days. You need a bit of discipline to do it, but it is worthwhile doing it. Because discipline is a kind of self-love. And, as a result, you will be able to run your business in a flow.