Tun on Subtitles and switch the language to English in the youtube settings, as described here:

Vitality 4 Happiness
"Vitality adds more years to your life,
Happiness adds more life to your years"
Capital & Mentoring for your vision
Your business idea in the area of ​​mental and physical fitness is your heart's concern. You burn for your idea.It aches in your heart so much to see your plans for your business come true. It is the main thing you think about. There are very few things more paramount on your mind. But some things inhibit you from realising that dream. You find obstacles that you are unable to surmount on your way to achieve your business dreams.
Do you want to bring your vision forward, but you lack the needed capital for the business expansion? Are you ready to take on new knowledge to get on with your idea? Would you love to take a hold of an opportunity to surmount your seemingly insurmountable obstacles and bring forth your business ideas?
Your business dreams are achievable and your obstacles surmountable. Vital has a plan for you, a proposal that will help you burst your business idea out of the inhibiting cocoon. This proposal is "The business retreat in Bali".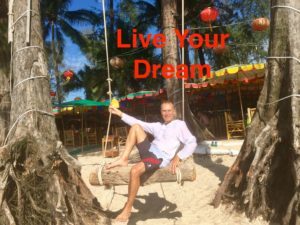 Five reasons, why the Vitality 4 Happiness business retreat is your business booster:
You will receive 10,000 Euro Venture Capital for your business expansion – including an annual exempt from trade tax of 24,500 euros (according to German tax regulations)
The fourfold success probability for your business idea and twice as fast growth
Competent practice coaching by Klaus Forster, who has made his own company a self-runner
– 14 days intensive workshop and exchange with twelve independent entrepreneurs who work together on their individual business development
– Two weeks of Bali to fully concentrate on your vision – and to enjoy Bali
By the time you are done with the Vitality 4 Happiness business retreat, your business idea will have become a reality and you will be proud and happy about your achievement.
Further education, capital and valuable tips and information are available on our work in Bali. Join Vitality 4 Happiness and take the next step in making your company a success and without risk. The coaching is financed exclusively from the future return of your company. This means you do not pay for the coaching unless it has worked for you and this has a lot of advantages for you. There has never been a better deal!
Think about it: What coach is really interested in your personal success? The one who simply bills off hourly? Or a coach who is involved in your company and thus also in your profit?
Go with Vitality 4 Happiness the next step! I invest in your company, create security and at the same time, the freedom to design your company according to your ideas in a way that provides you a steady business growth.
The participation is exclusively for entrepreneurs in the area of ​​mental and physical fitness and health, who live for their project and convincingly sell their vision.