👄📣🧏‍♀️ Enjoy listening to this podcast! Click the globe for 🇬🇧🇩🇪🇫🇷🇪🇸🇨🇳🇮🇪
Singaraja on Tuesday, December 15, 2020: I am thinking back about the month I spent at Bali Silent Retreat in Penebel, north of Tabanan. These are the results of my 30 Day Bali Silent Retreat. An honest, and very personal review.
Seven weeks ago I started my silent retreat challenge. And here is the retrospective, what I got out of it.
From October 27 to November 27 I stayed at Bali Silent Retreat. Now a little more than 2 weeks since returning, I can see the following results:
Learnings:
Understanding the signs of my body much better.
Getting to know plants in the herbal and medical garden: Flower for eye healing, Herb with antibiotics-like effect, to improve brain function, and to improve hearing.
Ability to foresee market development on the stock market. In fact, it turned out as the month in which I gained as much money, as never before in my life!
I recognize earlier when I am judging,

especially people on the spiral dynamics blue meme.
The blue ones want 7 waterproof steps to enlightenment, instead of a flow.
They do not understand that "Life is a game", that wants to be lived seriously. This does not mean looking serious as a security guard, but by living in the here and now!

Bikram yoga is the most dogmatic and an almost militant yoga style.
I got much better at detecting other peoples energy
Further Results of my 30 Day Bali Silent Retreat
Just in case, you are suffering from the same weakness as me, impatience? To make it short:
It was mindblowing!
Upon departure, I already booked my next stay for another month starting December 27, 2020. This time together with my sweetheart.
Accelerated mental growth
I was able to experience the shift from the spiral dynamics level yellow to turquoise. And even having the first taste of coral, due to enjoying the desire to remain lonesome and quiet. It became very natural to think about contributing to the universe, instead of chasing personal success. when doing anything. Under stress, I rather did behave green than orange, as I used to do before.
Healing impatience
I was laying the seeds to overcoming my impatience, and I became aware of my lack of humility. After utilizing the healing codes for patience for 11 days, I did the heart issues test again. And I gained an average of 1 point in each category from 6 to 7, out of 10 possible points. The biggest gain I had on the two issues I was working on, I gained 4 points on patience from -1 to +3, and 3 on humiliation from +2 to +5. I always used to have high inflammation markers in blood tests. As I have not checked them lately, I cannot say for sure, that they are in a normal range meanwhile. But from the way my body feels, I am sure, that there is a significant improvement.
https://www.dralexanderloyd.com/heart-finder-languages
And listen to Dr. Alex to understand how to use the results of the heart issues finder:
Buy the book to get access to the heart issues finder, to explore your weakest point, learn how to take action on it, and use the healing codes.
Rejuvenating the body
I was more than curious if a body fat scale would measure the difference in metabolic age. My friend Jenny, who keeps correcting what I am writing here, and also sees the selfies I am sharing, kept saying: "It seems you are getting younger every day."
Before versus after Bali Silent Retreat

October 26 – November 27, 2020
I think even in my face, one can see the change, before and after. Anyway, I attained some fat around my stomach. Looking at that I recalled what co-founder Particia whispered at the buffet when I met her the first time: "Having this abundance of food is a big responsibility". Later I understood what she meant: This responsibility is, not to overeat due to the fresh and delicious food on the buffet.
Honest Personal Review
Body fat scale measurements before versus after Bali Silent Retreat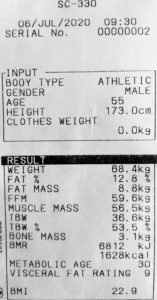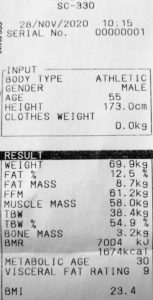 July 06, 2020 – November 28, 2020
After the retreat was finished, I went to Avenue Fitness in Canggu. At this gym, they have one of those high tech scales. Unfortunately, The last measurement was already a long time ago from July 06. And I found that the metabolic age remained the same. It measured still 30 years. And on top of that, I gained 1.5 kg bodyweight. Shall I blame the good food for that? Well, it was me, who kept overeating because it was so delicious. After analyzing the other measures, I found that I gained muscle and bone mass, and lost body fat. So, my body fat content got reduced from 12.8 to 12.5%! And due to that, I got more energy resources, a stronger skeleton, and less passive weight. Which I consider as a very positive result.
Communication beyond talk – listening to your inner voice
Doing walking meditations in the labyrinth, was magic. After 3 or 2 bends, I knew what was bothering me. By the time I finished it, I had found a solution to the question, and the symptoms disappeared.
Reading without glasses
I reduced from -1.75 to 0.0 dioptre within a month. I have not touched my glasses once again ever since.
Sitting for 45 minutes in a lotus-seat
Due to the daily meditation and yoga classes, there was a big increase in flexibility and balance, physically and mentally. And I got used to sitting in half lotus. And even in full lotus, at least for a short while, which I consider a yogi's status symbol.
Healing chronic psoriasis
In my early twenties, my finger and foot nails showed psoriasis for the first time, and I had to live with it ever since. During the retreat, it just disappeared during the retreat on my finger and foot nails. But I need to admit, that I already did a skin and psoriasis healing meditation regularly about 2 months before I went for the retreat. Anyway, the nails need about 3 months to grow to completely renew themselves. And so they did. After 30 years, I got rid of it!
Other experiences
Seeing the development of other guests
For example Eric. He introduced himself as being alcoholic, and told me, that he chose the silent retreat instead of a cold withdrawal in the killer mill. Within just 2 weeks of staying dry, his shaking hands got calm, the color of his face became a healthy color, his eyes opened up and became clear shiny blue, and his body posture was straightened up. I was deeply impressed by the progress of this man.
Being offline, writing without interruptions
I expected it to become boring at times. But writing kept me so busy, due to the clear thought, that came almost effortless. It became my new passion. The days almost were too short, to write everything that came into my mind, and I considered as valuable. And the clarity of the intuition was amazing, just like finding my own truth … or maybe real Truth – with a capital T – as Leo Gura uses to call it.
Fantastic library at Bali Silent Retreat
The books I learned the most from are:
"Bikram Yoga" – I translated almost the entire book into Bahasa Indonesia for my girlfriend. Because I lost her Bikram Yoga booklet, which she borrowed me.
"Quantum healing" from Deepak Chopra helped me to understand the causability beyond Newton's linear physics.
The healing codes – With the codes out of this book I made the biggest progress on my mental health. It includes a test of the heart issues finder. And I did it twice, before and after utilizing the healing codes for 11 days in the morning and the evening.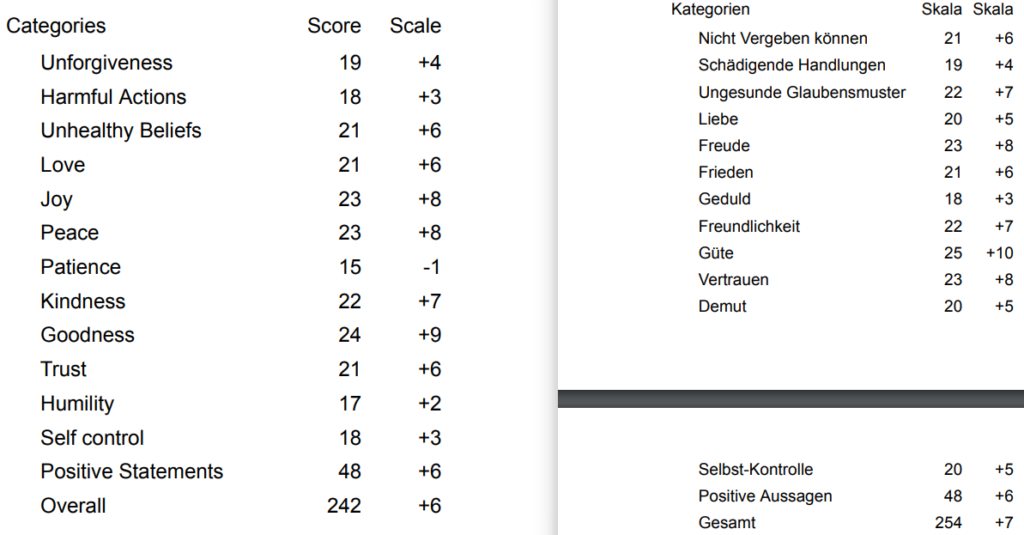 Even if the valuable information of this book would fit in a 20 pages booklet. The rest is an endless repetition of American-style success stories, sales pitches, which I considered as spiral dynamics orange at its worst. But the sales pitches worked! I bought the audiobook. I consider the following chapters worthwhile reading or listen (within 1:30 h) to, are:
Chapter 9: What are the healing codes
Chapter 11: Using the heart issues finder to pinpoint your issues

"Business Stripped Bare: Adventures of a Global Entrepreneur" by Richard Brandson, even after I decided not to read it in detail after speedreading it. Because I found the overlap with his books "Losing my virginity" and "Finding my virginity" is too large. But maybe I just missed the sentence, that would have made the difference.
Storytelling – I hope that I already implemented some of the learnings in this Bali Silent Retreat review, to make it pleasurable to read for you.
Improving my tolerance about spiral dynamics blue meme
Meeting a yoga teacher, whom I initially considered as being very dogmatic. And I disliked her in the beginning, due to being so introverted. She did not make eye contact nor smiled. That's why I considered here as deeply blue. Or how I call it usually: A wannabe enlightenment greenish person under heavy self-induced stress, due to dogmatism.
But over time, I learned to appreciate her yoga classes, knowledge, and her fine sense of the situation. Because she kept answering my questions during the classes. I even did not need to ask her. I realized she can read, the answers to my question written on my forehead. And I am very grateful for the feedback she gave me.
---
Bali Silent Retreat Honest Personal Review
On November 27, when it was time to check out, I booked already my next stay. This time together with my girlfriend. So, I will be back on December 27. 2020 for another month! Du to the amazing results of my 30 Day Bali Silent Retreats, I think that was a wise decision.
Who's gonna join us?
---
Read the full story of
---
This FAQ blog article answers the frequently asked questions about meditation, silent, and spiritual retreats.
Meditation Retreat FAQ: What is a Silent, Spiritual, or Mindfulness Retreat?
Vital and happy regards
Klaus Forster