What is the meaning of the Law of Intention And Desire?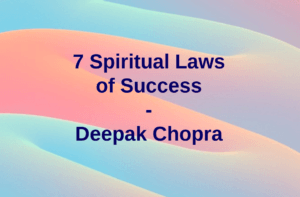 This audio is, to understand the law of Intention And Desire better. So, listen to this passage from Deepak Chopra's Book the 7 Spiritual Laws of Success.
The simplified Law of Intention And Desire is to
Find your vision =

Your purpose in life is?
What are you here for?
What is the contribution to the world only you can deliver?

Build your business aligned with your vision, your purpose, your WHY
Develop a mission - your HOW - that supports your vision
To apply the Law of Intention And Desire best possible, you need to
Implement a strategy, tactics, and systems to ensure your business stays on track towards your vision
For example, how to utilize your purpose in life, your vision, and your values to make or take decisions in your business. It actually becomes pretty straightforward if you have a vision. Especially if you know your values behind it. Spend some thinking time about it.
Now, return to Task 12
Resources about the Law of Intention And Desire
Free downloads of the 7 Spiritual Laws of Intention And Desire are available from: