Wednesday, December 16, 2020, at 1,000 Dreams Bungalows in Lovina
It is about 4 weeks ago since Komang and I signed the contract at the notary. And today, we came back to 1,000 Dreams Bungalows in Singaraja, to get an update on the buying status of the plot.
The next morning we visited the property, together with Komang's brother Ketut. And it had changed much, so that, I drove past it without recognizing it. At the street front, the bush had grown so much, that access hardly was possible anymore. Well, "street-front" is a funny word. Because it is rather an unsealed path than a street.
Through the bush, we found a way onto the property. So, we took a walk around, and we saw some mangos laying on the ground. Where are they coming from? This question made me look up, where I saw many of them hanging in the tree. Komang wanted to climb the tree to harvest them. But her brother was quicker. He climbed the tree and picked some of the fruits. The first harvest of our fruits! The 3 children at the neighbor's property kept curiously watching us. One could read in their faces: "What are they doing there?" I gave each of them one mango.
Then the father of the children turned up, and Komang started talking with him. He told her, that he has seen me around here already quite often. And she replied, yes that is likely because Klaus used to live with his former girlfriend Ana only 200 meters away. Then, we went to the palm tree, where a few coconuts were laying on the ground. We looked up at the palm tree, which hung full of coconuts. And it was obvious, that the coconuts are ready for harvesting. But the palm tree was about 12 meters high. How do we get the coconuts?
The neighbor said, he knows somebody, who can climb the tree and harvest them. The Indonesians, always know "somebody" who can solve the problem, almost any problem! We asked if he can get them harvested. And he confirmed that they can be harvested in the afternoon.
So, we went for lunch and to see the notary, to find out about the process of the registration of the property in Komang's name. The notary Ibu Else confirmed, that from her side everything was organized. But the land registry administration did not finish their side ye,s because they are very busy.  With a smile on my face, I asked myself: "How would a busy Indonesian civil servant look like?" Anyway, she convinced us, that everything will be going well. She explained that everybody expects, that the prices will go up next year. That's why so many real estate deals are getting closed currently. And due to that, she did not want to give a prediction of the date until it will be done. Maybe still this year, but it is more likely to be finished beginning of next year.
Investment or speculation?
We expect the price to double within one or two years, and there is another factor, that might create real fun: In 2025 the planned airport in Singaraja is scheduled to be opened. That will bring a lot of additional visitors to the north coast of Bali. The airport is planned with a capacity of 4 times Denpasar airport. We expect this to make the price go up by a factor of 4. The intention of buying the plot was based on this speculation.
Currently, access to the property is only through an unpaved path, but it is only about 30 meters long. I estimated, a cost of 400 Euros to get it concreted. This would make it much easier to sell. And it should be possible, to get it done within one week. But, let's wait with it until it is time to sell. And then we dress the bride pretty: We need to clear the jungle, only let the healthiest trees and a nice lawn remain, to make it look like a little park.
We expect, that after negotiation with a buyer, we end up with a sales price of 380,000,000 IDR. Which would make 230,000,000 IDR profit, which we would have to share. Let's say 100,000,000 IDR for each of us, which is about 6,000 Euro. And 30,000,000 IDR for the administrative cost, taxes, and the effort to make it look nice.
Payment Challenges
On October 24th it was time to take care of the payment. So, I went to the BNI bank to transfer the money. We waited for almost 2 hours until we got served. Then I explained to the man behind the counter, that I want to transfer 145,000,000 IDR into another account. And I asked him, how to do so.
The first option was to go to the cashier and do it there. But that failed because I did not bring my savings book, which is required for legitimation. The night before, I had installed 3 BNI apps, and I asked him: "Which one could be used to do it? I tried already all of them, but I cannot activate any of them."
He said: "Use the BNI internet banking app. Shall I can activate it?" I responded: "Yes, sure!" But that failed as well because one needs a Gmail address, which is an email address hosted by Googlemail. I asked him to try each of my email addresses, but the system did not accept any of them. I have no understanding of this limitation. And I felt how I got more and more impatient.
Then he said: "Let's activate the SMS Banking app." And he did so. But when we tried to do the money transfer with it, it failed because I had no prepaid credit for SMS. Because I never use this SMS dinosaur. Komang came and helped by sending me some prepaid credit from her phone. Then it worked, but the daily transfer was limited to 15,000,000 IDR. That means, that I need to go through this procedure for 10 days to transfer the entire amount. I was quite pissed off!
Then he said, that I can transfer up to 100,000,000 at the ATM if the receiver has a BNI account as well. Komang's BNI account was ready meanwhile. So, I went to the ATM with her account number to do the transfer into her account. I tried 5 times with different amounts, starting with 100,000,000 IDR. Then I reduced step by step. Because the machine always told me, that the amount of money is too high, but not, how much would be the maximum. None of it worked. My blood was boiling and I felt desperate and destroyed. Finally, I gave up on this day, flushing down my frustration with a couple of Bintang!
The next day we took a scooter ride back to the Bali Silent Retreat to pick up the savings book. From there, we continued to the BNI bank in Tabanan. We got our queue number and went to the cashier. There we had to wait only for a few minutes. This time the man behind the cashier understood what to do, and a few minutes later, the transfer succeeded.
After paying the sales price, I could not stop thinking: How to make the best use of the plot? And, how to turn this speculation into a real investment? So I came up with the idea of a 7-bedroom villa with a yoga shala. So that Komang can run prana healing yoga retreats there. And I already got a name for it:
Villa Kuntabunt Lovina
The construction, that came up in my mind, had a metal spiral staircase in the center and all the rest should be built from bamboo. Maybe some metal construction, clad with bamboo or wood. The rooms themselves are only separated by thin wood walls and open to the outside. Each room should provide space for a queen-size bed. The blinders on the outside protect against sun and rain. But principally, it is all open. There will be very little privacy. But this is intended. Further, the construction will be so flexible, that if someone has fun, the entire house will feel and share the good vibrations. And I wanted to have a lot of pleasure going on there!
First floor (ground level)
Parking space,
kitchen,
dining room,
bathroom
around the ground level is an oval pool
one round is about 40 meters
so it is good for real swimming
jacuzzi
wide-angle open-air cinema
reception
cafe bar
Second floor
6 small rooms
1 shared bathroom
with access through the center of the house
by a spiral staircase.
Third-floor
office space,
which also can be used as a yoga shala,
with hammocks for relaxing
covered by a tent roof, to protect it against sun and rain
one Penthouse room with a private bathroom
1 restroom
a solar-heated water reservoir placed above the spiral stairs
6 weeks before
It all started about 6 weeks ago. We went on a trip to Singaraja and ended up staying at Lovina Seabreeze Bungalows. Some friend sent Komang a message: "A small plot of land is for sale, for a very cheap price."
200 square meters
construction land
size 10m * 20m
quiet location
easy accessible
600 m from Lovina Beach
The offer was for about 45 € per square meter. This is what you pay as cold rent per square meter in Hamburg or Munich for a flat within 3 months! We went there to have a look. Already on the way to get there, my smile got brighter and brighter. Because it was located only 200 meters from Ana's home. When we arrived, I said to Komang: I know this region quite well and it is a nice place and a good location! It felt good, and my intuition told me, that's a great opportunity.
Komang told me that she wanted to ask her bank for a credit to buy it. I did not think long about it and offered to lend money to buy. But I do not want to be involved in any administrational work. And if we sell it, we can share the earnings.
Within two weeks Komang organized everything. She provided me with a contract between us, which made her the nominee who signed the contract. And I would be the investor. She was willing to go through all of the administrative work, I only had to pay the price for the land, and as soon as we sell, we share the profit. And then we had a date at the notary, to close the financing deal. A little later on the same day, the seller turned up at the same notary, and Komang signed also a sales contract with him.
Breathtaking harvesting of coconuts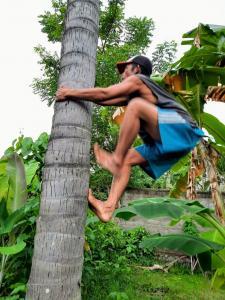 On the afternoon of December 16, after our date with the notary, we went back to the property. The coconut climber arrived and climbed the coconut tree up to the top, barefoot and without any protection, ropes, or life insurance! Just with a sickle in his back pocket. Our breath halted watching this. Within 15 minutes he harvested about 25 coconuts, and he cut out the dry branches.
After coming down again, he started opening them with the sickle. Everybody enjoyed the refreshing coconut water: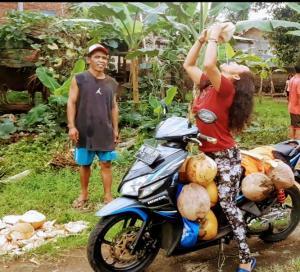 Then he opened the empty nuts and we ate also the coconut meat. I thought, that we are now the owner of a plot. But looking at my scooter, which was packed with mangos and coconuts, I slowly became aware:
That we became coconut, mango, and banana farmers.
Without even realizing it!