What is the meaning of the Law of Giving And Receiving?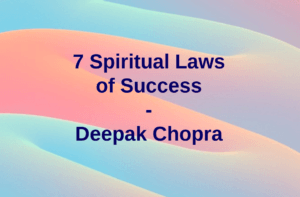 This audio is, to understand the concept of Giving And Receiving better. So, listen to this passage from Deepak Chopra's Book the 7 Spiritual Laws of Success.
The simplified Law of Giving and Receiving is to understand that the primary mission of a company is
to GIVE services to customers
and not primarily to make money,
but receiving money is the consequence of it,
to be able to improve the products and services,
in order to serve customers even better in the future.
That it is good to RECIEVE and earn much, to keep the energy flowing,
and to be able to GIVE some of it to charity.
To apply the Law of Giving best possible, you need to
Think positive about earnings and the flow of money
In most cultures, there are many negative beliefs about money and business. People assume the news as a representative source of information. But they are not! In fact, the bad news is selling better. That's why you get to acknowledge the cases of corruption, bad business habits, scandals in enterprises, how companies make their customers addicted, tens of times more often than about the good ones. Even if there are tens of times more good companies out there than bad ones! So, not even 1% of the businesses are responsible for all of the bad news!
There are plenty of movies, for example, Super Size. It reports, how sick one becomes from eating only at McDonald's 3 times a day. But there are no movies about how much money Bill Gates did put in charity. Actually, he and many other extraordinarily successful people gave the majority of their assets to charity! Hardly anyone would watch the movies with positive examples. So reports about such positive examples are rare, very rare. To run your business successful you need to
Identify and eliminate negative beliefs
Now it is time to have a look and do some research, which brain damage that kind of bad news already did to you. And which beliefs it created. Find some answers to the question: How to Overcome a Self-Limiting Belief?
Now, return to Task 9
Resources about the Law of Giving and Receiving
Free downloads of the 7 Spiritual Laws of Success are available from: