What is the meaning of the Law of Pure Potentiality?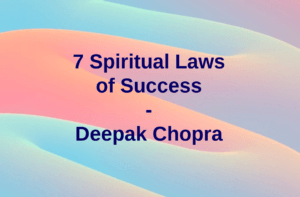 This audio is, to understand the concept of Pure Potentiality for Entrepreneurs better. So, listen to this passage from Deepak Chopra's Book the 7 Spiritual Laws of Success.
The simplified Law of Pure Potentiality for Conscious Female Entrepreneurs is
Anything you can imagine already exists
You can create anything, that you can imagine
The more you can imagine, the more you will achieve
To apply Pure Potentiality as an Entrepreneur best possible, you need to
Train, stretch, and relax your imaginary capabilities
Even if money is not everything, it is a good example to train with. Just because, the results are so easily measurable. That's why, train and stretch, for example, your mindset about money to extend what you can imagine.
Now, return to Task 8
Resources about the Law of Pure Potentiality
Free downloads of the 7 Spiritual Laws of Success are available from: