Didukung oleh iSpeech
Welcome to the 21 Days of Abundance Challenge 2021 With Meditations from Dr. Deepak Chopra


Bergabunglah dengan 21 Hari Tugas Kelimpahan Gratis!
Tujuan 21 Hari Kelimpahan ini adalah untuk:
Membuat

pola pikir untuk amal

Berkontribusi kepada dunia

dengan bisnis Anda

Menarik kelimpahan untuk Anda dan bisnis Anda
Pengalaman pola pikir syukur
Ciptakan situasi MENANG-MENANG-MENANG antara Anda, pelanggan Anda, dan seluruh alam semesta
PLUS terima PRESENT harian Anda:
Meditasi Kelimpahan Deepak Chopra!
---
BARU:
Mulailah
dengan
anda
individual task
You already participated in an abundance challenge? But it stopped along the way? No problem. Now, you can pilih hari / tugas # untuk melanjutkan!
---
---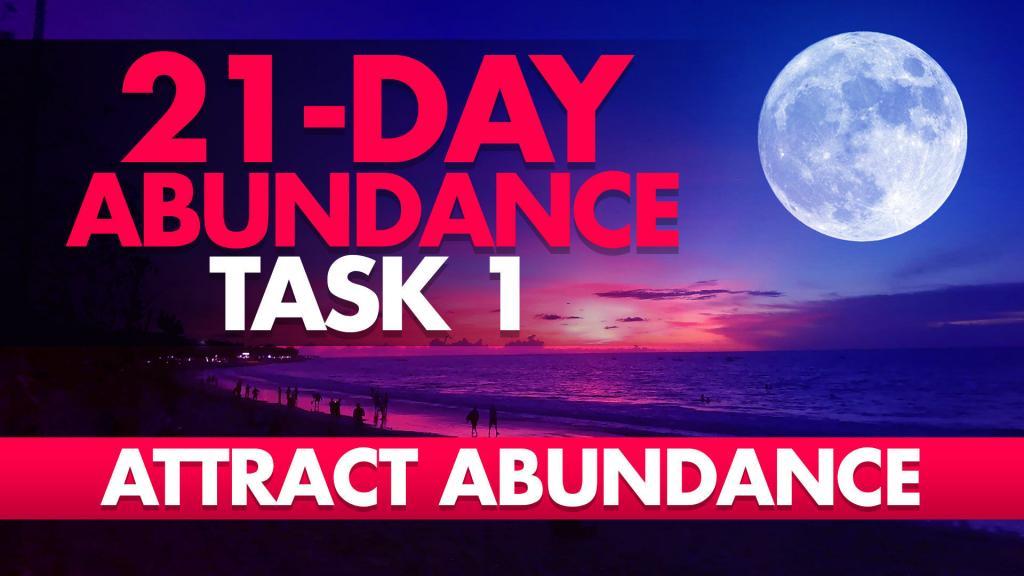 Start today with task 1, to work toward your abundance. And you're aiming to receive your 1st lesson for day 1 of 21. You will receive the subsequent tasks within the morning. Then you have 24 hours to complete the task. And your daily gift for the completion of each task will be a lovely meditation from Deepak Chopra.
---
Tantangan 21 Hari Kelimpahan Dengan Renungan Deepak Chopra Termasuk:
Minggu 1
Di minggu pertama, kami akan mempertimbangkan janji potensi wirausaha Anda yang tidak terbatas.
During this time, you learn what true abundance is:
Sumber tak terbatas tempat Anda dan bisnis Anda dapat berkembang.
Bagaimana kesadaran dan pikiran mempengaruhi perkembangannya.
Akhirnya, Anda akan mewujudkan, bagaimana Anda dapat sangat memahami betapa kelimpahan adalah hak ilahi Anda.
Minggu 2
Selama minggu kedua, Anda akan mengalami bagaimana kelimpahan berhubungan dengan tujuh hukum spiritual kesuksesan dan apa artinya bagi Anda sebagai pengusaha wanita yang sadar.
We will begin with the law of pure potentiality.
Apa sebenarnya yang mungkin?
Dan diakhiri dengan hukum karma.
Lebih lanjut, bagaimana meningkatkan kelimpahan dalam hidup Anda, dengan melayani umat manusia dengan keterampilan dan bakat unik Anda.
Minggu 3
Di minggu ketiga kita, Anda akan merenungkan aspek praktis dari kelimpahan: Hidup sejati dalam kelimpahan sebagai keadaan alami Anda.
During this time you will explore the depth of synchro destiny.
Serta, secara sadar mewujudkan takdir Anda dengan memanfaatkan kekuatan niat yang berarti kebetulan.
Hasilnya, Anda akan mewujudkan pentingnya hidup penuh syukur. Karena rasa syukur mengarah pada hubungan pelanggan. Yang riang, dengan cinta, dan persatuan. Akhirnya, untuk menciptakan lingkungan yang berkelimpahan dalam bisnis Anda.
21 Tugas dan Meditasi Untuk Anda:
Semua tugas dari tugas 1 hingga tugas 21
Semua meditasi dari hari 1 hingga hari ke 21
---
Tanya Jawab tentang 21 Hari Tugas Kelimpahan
Apakah 21 hari kelimpahan itu?

The 21-Day Meditation Challenge was originally created by Oprah's Lifeclass and The Chopra Center. This is for you if you are ready to create the abundance in your life you've always dreamed of. Anything you can imagine or desire is already available to you, right here and now. Bergabunglah dengan Tantangan Meditasi 21-Hari untuk mendapatkan kekuatan sejati Anda. Dan untuk menarik kehidupan paling bermakna yang bisa Anda impikan.
Apa yang akan Anda dapatkan dari program kelimpahan?

Tantangan Meditasi Kelimpahan 21-Hari akan membantu Anda menemukan apa yang membatasi Anda. Baik dari mencapai target Anda atau dari menjalani impian Anda secara bawah sadar. Karena pikiran bawah sadar Anda menganggap semua keyakinan Anda sebagai kebenaran. Selain itu, ia akan melakukan segalanya dan segala daya untuk mewujudkannya. Independen jika itu bermanfaat atau membatasi kepercayaan. Jadi, Program-Kelimpahan 21 hari akan menggantikan kepercayaan yang membatasi dengan yang bermanfaat di pikiran bawah sadar Anda. Begitu, Daftar disini.
Apa artinya melimpah? Bagaimana Anda menciptakan kelimpahan finansial?

De-clutter your wallet or purse. ...
Collect all of your coins. ...
Tell the money you love it. ...
Place beautiful images of money in your awareness. ...
Intention Setting is vital. ...
Commit random acts of money kindness. ...
Write yourself a check. ...
Bertindak seolah-olah Anda punya uang - jadilah berkelas.
Apa artinya melimpah secara finansial?

Ini adalah konsep perlindungan finansial, keamanan finansial, kebebasan finansial, dan kebebasan finansial absolut. Konsep ini akan dijelaskan secara mendetail dan dipecah dalam langkah-langkah sederhana yang dapat direproduksi selama tantangan. Cari tahu lebih lanjut tentang itu dan lakukan sekarang!
Apakah ini 21 hari kelimpahan yang asli?

Tidak, ini adalah versi yang disesuaikan, terutama untuk pengusaha wanita yang sadar. Selanjutnya, praktik syukur ditambahkan untuk memberdayakan ruang bawah tanah untuk kelimpahan Anda.
Apa itu meditasi dan bagaimana cara bermeditasi?

Meditation is a practice where an individual uses a technique. Such as mindfulness or focusing the mind on a particular object, thought, or activity – to train attention and awareness. In addition to that, it helps to achieve a mentally clear and emotionally calm, and stable state. During your 21 days of abundance, you will also get an introduction to how to meditate.
Siapakah Dr. Deepak Chopra?

Menurut Wikipedia, Deepak Chopra lahir pada 22 Oktober 1946. Ia adalah seorang penulis Amerika kelahiran India dan advokat pengobatan alternatif. Lebih jauh, dia adalah tokoh penting dalam gerakan Zaman Baru. Karena buku dan videonya, ia menjadi salah satu tokoh paling terkenal dan terkaya dalam pengobatan alternatif.

Salam penting dan bahagia
Klaus Forster