Bienvenido al Desafío 21 días de abundancia 2021 con meditaciones del Dr. Deepak Chopra


Únase a las tareas de los 21 días de abundancia Gratis!
La intención de estos 21 días de abundancia es:
Crear un

mentalidad para la caridad

Contribuir al mundo

con tu negocio

Atraer abundancia para ti y tu negocio
Experiencia una mentalidad de gratitud
Crea situaciones GANAR-GANAR-GANAR entre usted, sus clientes y todo el universo
ADEMÁS recibe tu PRESENTE diario:
¡Una meditación de abundancia de Deepak Chopra!
---
NUEVO:
comienzo
con
tu
tarea individual
¿Ya participaste en un desafío de abundancia? ¿Pero se detuvo en el camino? No hay problema. Ahora usted puede ¡elija el día / tarea # para reanudar!
---
---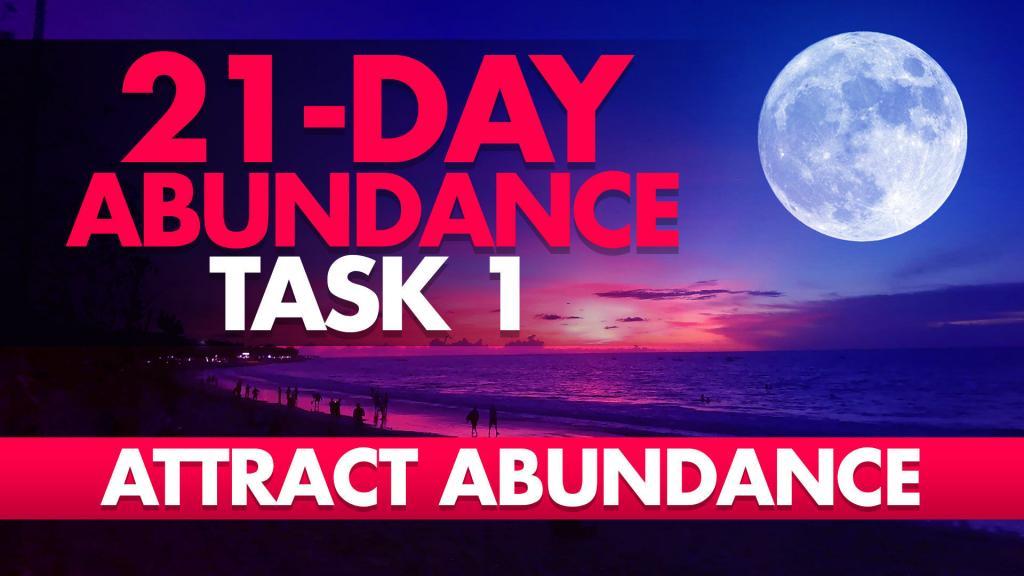 Comience hoy con la tarea 1, para trabajar hacia su abundancia. Y su objetivo es recibir su primera lección para el día 1 de 21. Recibirá las siguientes tareas en la mañana. Entonces tienes 24 horas para completar la tarea. Y su regalo diario por la realización de cada tarea será una hermosa meditación de Deepak Chopra.
---
El desafío de los 21 días de abundancia con las meditaciones de Deepak Chopra incluyen:
Semana 1
En la primera semana, consideraremos la promesa de su potencial empresarial ilimitado.
Durante este tiempo, aprenderá qué es la verdadera abundancia:
La fuente infinita en la que usted y su empresa pueden crecer.
Cómo la conciencia y la mente afectan su desarrollo.
Finalmente, encarnarás cómo puedes comprender profundamente cómo la abundancia es tu derecho divino.
Semana 2
Durante la segunda semana, experimentará cómo la abundancia se relaciona con las siete leyes espirituales del éxito y lo que significan para usted como emprendedora consciente.
Comenzaremos con la ley de la potencialidad pura.
¿Qué es exactamente posible?
Y terminando con la ley del karma.
Además, cómo aumentar la abundancia en su vida, sirviendo a la humanidad con sus habilidades y talentos únicos.
Semana 3
En nuestra tercera semana, contemplará los aspectos prácticos de la abundancia: Verdaderamente vivir en abundancia como su estado natural de ser.
Durante este tiempo, explorarás la profundidad del destino sincronizado.
Además de manifestar conscientemente su destino al aprovechar el poder de la coincidencia significativa de la intención.
Como resultado, encarnarás la importancia de vivir con gratitud. Porque el agradecimiento conduce a las relaciones con los clientes. Que sean despreocupados, con amor y unidad. Finalmente, crear un ambiente de abundancia en su negocio.
21 tareas y meditaciones para ti:
Todas las tareas desde la tarea 1 hasta la tarea 21
Todas las meditaciones del día 1 al día 21
---
Preguntas frecuentes sobre las tareas de los 21 días de abundancia
¿Qué son los 21 días de abundancia?

El Desafío de meditación de 21 días fue creado originalmente por Lifeclass de Oprah y el Centro Chopra. Esto es para ti si estás listo para crear la abundancia en tu vida con la que siempre has soñado. Todo lo que puedas imaginar o desear ya está disponible para ti, aquí y ahora. Únase al desafío de meditación de 21 días para entrar en tu verdadero poder. Y para atraer la vida más significativa que puedas soñar.
¿Qué obtendrá del programa de abundancia?

El desafío de meditación de abundancia de 21 días te ayudará a encontrar lo que te está limitando. Ya sea por alcanzar sus objetivos o por vivir sus sueños de manera subconsciente. Porque su mente subconsciente toma todas sus creencias como verdad. Además de eso, hará todo lo que esté a su alcance para que sucedan. Independiente si son creencias beneficiosas o limitantes. Por lo tanto, los 21 días del Programa de Abundancia reemplazarán las creencias limitantes por otras beneficiosas en su mente subconsciente. Entonces, Registrate aquí.
¿Qué significa abundante? ¿Cómo se crea abundancia financiera?

Ordene su billetera o bolso. ...
Recoge todas tus monedas. ...
Dile al dinero que te encanta. ...
Coloque hermosas imágenes de dinero en su conciencia. ...
El establecimiento de intenciones es vital. ...
Realiza actos aleatorios de bondad monetaria. ...
Escriba un cheque. ...
Actúa como si tuvieras dinero, ponte elegante.
¿Qué significa abundancia financiera?

Este es el concepto de protección financiera, seguridad financiera, libertad financiera y libertad financiera absoluta. Este concepto se explicará en detalle y se desglosará en sencillos pasos reproducibles durante el desafío. Obtenga más información y hazlo ahora!
¿Son estos los 21 días originales de abundancia?

No, esta es una versión a medida, especialmente para mujeres emprendedoras conscientes. Además, se agrega una práctica de gratitud para empoderar al sótano para tu abundancia.
¿Qué es la meditación y cómo meditar?

Meditation is a practice where an individual uses a technique. Such as mindfulness or focusing the mind on a particular object, thought, or activity – to train attention and awareness. In addition to that, it helps to achieve a mentally clear and emotionally calm, and stable state. During your 21 days of abundance, you will also get an introduction to how to meditate.
¿Quién es el Dr. Deepak Chopra?

Según Wikipedia, Deepak Chopra nació el 22 de octubre de 1946. Es un autor estadounidense nacido en la India y defensor de la medicina alternativa. Además, es una figura prominente en el movimiento New Age. Gracias a sus libros y videos, se convirtió en una de las figuras más conocidas y ricas de la medicina alternativa.

Saludos vitales y felices
Klaus Forster