Welcome to the 21 Days of Abundance Challenge 2021 With Meditations from Dr. Deepak Chopra


Join the 21 Days of Abundance Tasks For FREE!
The intention of this 21 Days of Abundance is to:
Create a

mindset for charity

Contribute to the world

with your business

Attract abundance for you and your business
Experience a mindset of gratitude
Create WIN-WIN-WIN situations between you, your customers, and the entire universe
PLUS receive your daily PRESENT:
A Deepak Chopra Abundance Meditation!
---
NEW: 
Start
with
your
individual task
You already participated in an abundance challenge? But it stopped along the way? No problem. Now, you can choose the day/task # to resume with!
---
---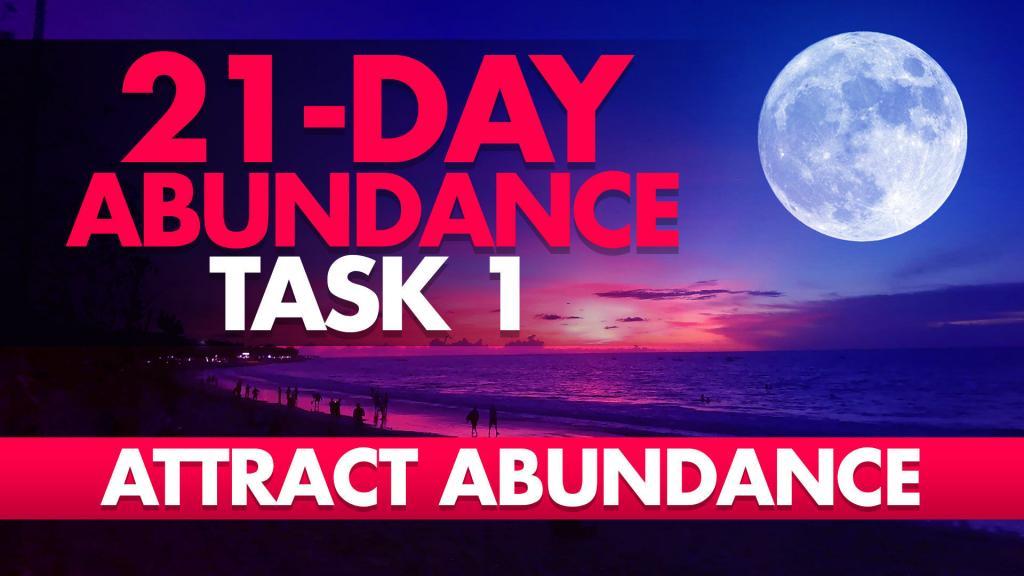 Start today with task 1, to work toward your abundance. And you're aiming to receive your 1st lesson for day 1 of 21. You will receive the subsequent tasks within the morning. Then you have 24 hours to complete the task. And your daily gift for the completion of each task will be a lovely meditation from Deepak Chopra.
---
The 21 Days of Abundance Challenge With Deepak Chopra Meditations Include:
Week 1
In the first week, we will consider the promise of your unlimited entrepreneurial potential.
During this time, you learn what true abundance is:
The infinite source on which you and your business can grow.
How consciousness and the mind affect its development.
Finally, you will embody, how you can deeply understand how abundance is your divine right.
Week 2
During the second week, you will experience how abundance relates to the seven spiritual laws of success and what they mean to you as a conscious female entrepreneur.
We will begin with the law of pure potentiality.
What exactly is possible?
And ending with the law of karma.
Further, how to increase abundance in your life, by serving humanity with your unique skills and talents.
Week 3
In our third week, you will contemplate the practical aspects of abundance: True living in abundance as your natural state of being.
During this time you will explore the depth of synchro destiny.
As well as, consciously manifesting your destiny by harnessing the power of intention meaningful coincidence.
As a result, you will embody the importance of living gratefully.  Because gratefulness leads to customer relationships. Which are carefree, with love, and unity. Finally, to create an environment of abundance in your business.
21 Tasks and Meditations For You:
All task from task 1 to task 21
All meditations from day 1 to day 21
---
FAQ about the 21 Days of Abundance Tasks
What are the 21 days of abundance?

The 21-Day Meditation Challenge was originally created by Oprah's Lifeclass and The Chopra Center. This is for you if you are ready to create the abundance in your life you've always dreamed of. Anything you can imagine or desire is already available to you, right here and now. Join the 21-Day Meditation Challenge to get into your true power. And to attract the most meaningful life you can dream of.
What will you get out of the abundance program?

The 21-Day Abundance Meditation Challenge will help you find what is limiting you. Either from reaching your targets or from living your dreams in a subconscious way. Because your subconscious mind takes all of your beliefs as truth. In addition to that, it will do everything and anything in its power to make them happen. Independent if those are beneficial or limiting believes. So, the 21 days of Abundance-Program will replace limiting believes with beneficial ones in your subconscious mind. So, sign-up here.
What does abundant mean? How do you create financial abundance?

De-clutter your wallet or purse. …
Collect all of your coins. …
Tell the money you love it. …
Place beautiful images of money in your awareness. …
Intention Setting is vital. …
Commit random acts of money kindness. …
Write yourself a check. …
Act as if you have money – get classy.
What does financially abundant mean?

This is the concept of financial protection, financial security, financial freedom, and absolute financial freedom. This concept will be explained in detail and broken down in simple reproducible steps during the challenge. Find out more about it and go for it now!
Is this the original 21 days of abundance?

No, this is a tailored version of it, particularly for conscious female entrepreneurs. Further, a gratitude practice is added to empower the basement for your abundance.
What is meditation and how to meditate?

Meditation is a practice where an individual uses a technique. Such as mindfulness or focusing the mind on a particular object, thought, or activity – to train attention and awareness. In addition to that, it helps to achieve a mentally clear and emotionally calm, and stable state. During your 21 days of abundance, you will also get an introduction to how to meditate.
Who is Dr. Deepak Chopra?

According to Wikipedia, Deepak Chopra was born on October 22, 1946. He is an Indian-born American author and alternative medicine advocate. Further, he is a prominent figure in the New Age movement. Due to his books and videos, he became one of the best-known and wealthiest figures in alternative medicine.

Vital and happy regards
Klaus Forster