Powered by iSpeech
Welcome to the 21 Days of Abundance Challenge 2021 With Meditations from Dr. Deepak Chopra


Doe mee met de 21 Days of Abundance-taken Gratis!
De bedoeling van deze 21 Days of Abundance is om:
Maak een

mentaliteit voor liefdadigheid

Draag bij aan de wereld

met uw bedrijf

Trek overvloed aan voor jou en je bedrijf
Ervaring een mentaliteit van dankbaarheid
Creëer WIN-WIN-WIN-situaties tussen u, uw klanten en het hele universum
PLUS ontvang uw dagelijkse GESCHENK:
Een Deepak Chopra Overvloed Meditatie!
---
NIEUW:
Begin
met
uw
individual task
You already participated in an abundance challenge? But it stopped along the way? No problem. Now, you can kies de dag / taak # om mee te hervatten!
---
---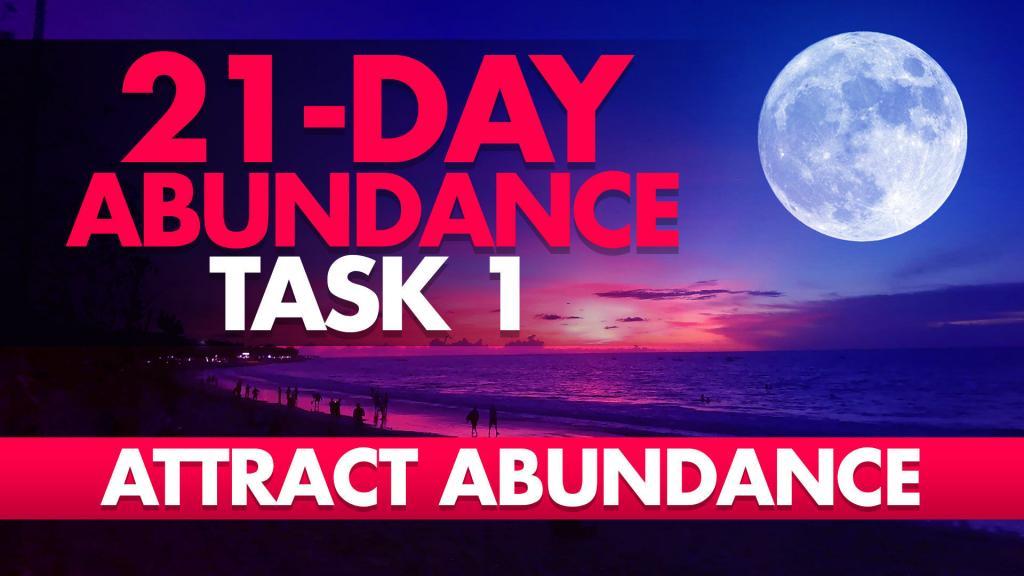 Start today with task 1, to work toward your abundance. And you're aiming to receive your 1st lesson for day 1 of 21. You will receive the subsequent tasks within the morning. Then you have 24 hours to complete the task. And your daily gift for the completion of each task will be a lovely meditation from Deepak Chopra.
---
De 21 dagen van overvloed-uitdaging met Deepak Chopra-meditaties omvatten:
Week 1
In de eerste week kijken we naar de belofte van uw onbeperkte ondernemerspotentieel.
During this time, you learn what true abundance is:
De oneindige bron waarop u en uw bedrijf kunnen groeien.
Hoe bewustzijn en de geest zijn ontwikkeling beïnvloeden.
Ten slotte zul je belichamen hoe je diep kunt begrijpen hoe overvloed jouw goddelijke recht is.
Week 2
Tijdens de tweede week ervaar je hoe overvloed zich verhoudt tot de zeven spirituele wetten van succes en wat deze voor jou als bewuste vrouwelijke ondernemer betekenen.
We will begin with the law of pure potentiality.
Wat is er precies mogelijk?
En eindigend met de wet van karma.
Verder, hoe u overvloed in uw leven kunt vergroten door de mensheid te dienen met uw unieke vaardigheden en talenten.
Week 3
In onze derde week ga je nadenken over de praktische aspecten van overvloed: Echt leven in overvloed als je natuurlijke staat van zijn.
During this time you will explore the depth of synchro destiny.
Evenals, bewust je bestemming manifesteren door gebruik te maken van de kracht van intentie, zinvol toeval.
Als resultaat zul je het belang van dankbaar leven belichamen. Omdat dankbaarheid leidt tot klantrelaties. Die zijn zorgeloos, met liefde en eenheid. Ten slotte, om een ​​omgeving van overvloed in uw bedrijf te creëren.
21 taken en meditaties voor jou:
Alle taken van taak 1 tot taak 21
Alle meditaties van dag 1 tot dag 21
---
Veelgestelde vragen over de taken van 21 dagen van overvloed
Wat zijn de 21 dagen van overvloed?

The 21-Day Meditation Challenge was originally created by Oprah's Lifeclass and The Chopra Center. This is for you if you are ready to create the abundance in your life you've always dreamed of. Anything you can imagine or desire is already available to you, right here and now. Doe mee aan de 21-daagse meditatie-uitdaging om in je ware kracht te komen. En om het meest zinvolle leven aan te trekken waarvan je kunt dromen.
Wat haal je uit het overvloedprogramma?

De 21-daagse Overvloedmeditatie-uitdaging zal je helpen te ontdekken wat je beperkt. Ofwel door je doelen te bereiken of door je dromen op een onbewuste manier te leven. Omdat je onderbewustzijn al je overtuigingen als waarheid beschouwt. Daarnaast zal het er alles aan doen om ze te laten gebeuren. Onafhankelijk als dat gunstige of beperkende overtuigingen zijn. Dus de 21 dagen van Overvloed-Programma zullen beperkende geloven vervangen door heilzame in je onderbewustzijn. Zo, Registreer hier.
Wat betekent overvloedig? Hoe creëer je financiële overvloed?

De-clutter your wallet or purse. ...
Collect all of your coins. ...
Tell the money you love it. ...
Place beautiful images of money in your awareness. ...
Intention Setting is vital. ...
Commit random acts of money kindness. ...
Write yourself a check. ...
Doe alsof je geld hebt - word stijlvol.
Wat betekent financieel overvloedig?

Dit is het concept van financiële bescherming, financiële zekerheid, financiële vrijheid en absolute financiële vrijheid. Dit concept wordt tijdens de challenge in detail uitgelegd en in eenvoudige reproduceerbare stappen uitgesplitst. Lees er meer over en ga ervoor nu!
Is dit de oorspronkelijke 21 dagen van overvloed?

Nee, dit is een maatwerkversie, zeker voor bewuste vrouwelijke ondernemers. Verder wordt een dankbaarheidspraktijk toegevoegd om de kelder voor uw overvloed.
Wat is meditatie en hoe mediteren?

Meditation is a practice where an individual uses a technique. Such as mindfulness or focusing the mind on a particular object, thought, or activity – to train attention and awareness. In addition to that, it helps to achieve a mentally clear and emotionally calm, and stable state. During your 21 days of abundance, you will also get an introduction to how to meditate.
Wie is Dr. Deepak Chopra?

Volgens Wikipedia werd Deepak Chopra geboren op 22 oktober 1946. Hij is een in India geboren Amerikaanse auteur en voorstander van alternatieve geneeswijzen. Verder is hij een prominente figuur in de New Age-beweging. Dankzij zijn boeken en video's werd hij een van de bekendste en rijkste figuren in de alternatieve geneeskunde.

Vital and happy regards
Klaus Forster