Originally posted 2020-10-13 12:00:00.

https://www.ispeech.org/text.to.speech
abundance spiritual meaning
An Example what is Abundance Mentally?
Source: YouTube by Markus Heitkoetter
What is Abundance?
Let's split this between the outer and the inner meaning of being abundant.
In the long run, you will realize, that the inner status is dominant over the outer status. And keeping the outer status up - without a high inner status - costs a lot of energy, lipstick, and powder! But inside might be an unfulfilled soul. That's why mindfulness work is so essential to becoming abundant and to improve inner status. That's why these meditations are so powerful.
What is Abundance in Terms of Materialistic Wealth?
Firstly, plenty of money, at least a minimum level of wealth. This is somehow the basis to be able to do the mindfulness work. If you don't master the game of money, money becomes too essential. And due to that, you won't be able to concentrate on the development of your spirituality. Have a look at this video how Markus Heitkoetter, a financial advisor, who thinks about the required mindset:
What is Abundance Spiritually?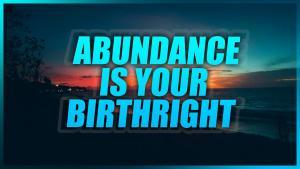 On the other side, if you do not love money and wealth, nor have a mindset of living abundantly, you will not be able to attract and keep any wealth. The inner status will serve you with the energy and passion to build your wealth. And then you are free to do something meaningful with it. The easiest way to increase your inner status is with abundance meditations.
Two Sides of Being Abundant
And that's why - it is so very essential to work on both sides at the same time. At least I never experienced that a bag full of money fell right on my head during a wealth meditation!
---
FAQ About The 21-Day of Abundance
What is the abundance challenge?

The 21-Day Meditation Challenge was created by Oprah's Lifeclass and The Chopra Center. This is for you if you are ready to create the abundance in your life you've always dreamed of. Anything you can imagine or desire is already available to you, right here and now. Join the 21-Day Meditation Challenge to get into your true power. And to attract the most meaningful life you can dream of.
What will you get out of the 21 days of abundance program?

The 21-Day Abundance Meditation Challenge will help you find what is limiting you. Either from reaching your targets or from subconsciously living your dreams. Because your subconscious mind takes all of your beliefs as truth. In addition to that, it will do everything and anything in its power to make them happen. Independent if those are beneficial or limiting believes. So, the 21 days of Abundance-Program will replace limiting believes with beneficial ones in your subconscious mind. To do so, sign-up here.

What is Abundance?
What is financial abundance?

This is the concept of financial protection, financial security, financial freedom, and absolute financial freedom. This concept will be explained in detail and broken down in simple understandable steps during the challenge. Find out more about it and go for it now!
What is meditation and how to meditate?

Meditation is a practice where an individual uses a technique. Such as mindfulness or focusing the mind on a particular object, thought, or activity – to train attention and awareness. In addition to that, it helps to achieve a mentally clear and emotionally calm and stable state. During your 21 days of abundance, you will also get an introduction on how to meditate.