This is your invitation to the wedding party
Sinta Ni Komang Sukerni
&
I Putu Klaus Forster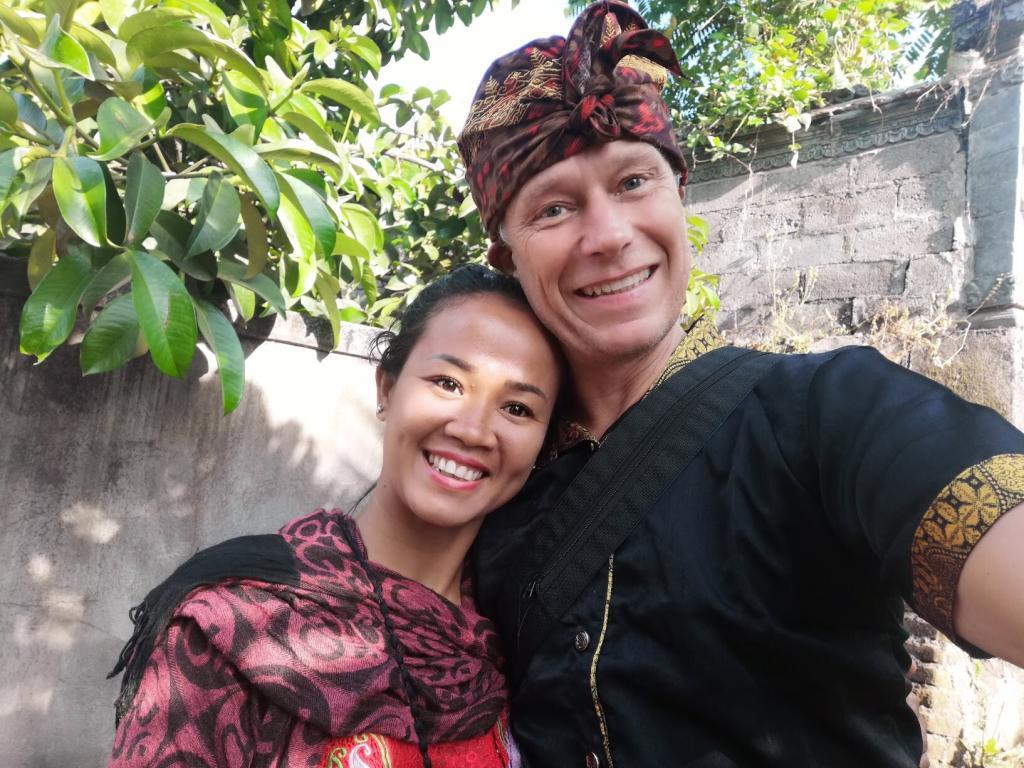 ---
You are invited to participate in our wedding party. It will take place
on the 23rd of August, 2022.
One of Komang's yoga clients, the Dutch artist David, offered us to celebrate the wedding party at his beautiful Villa, Mengwi, Pererenan, Bali 80531.
As an alternative, we are thinking about blessings at Pura Gede Luhur Temple. A public blessing at 3 p.m. with all of those who want to share blessings at the Pura Gede Luhur temple (Cemagi, Mengwi). Anyone is invited to participate there. After the blessing, we will enjoy the sunset with some snacks and drinks at the nearby Warung Sunset Semenur (Cemagi).
We will keep you updated, as soon as we decided where we will celebrate.
---
On August 22, 2022, there will be the wedding blessings ceremony. We will celebrate it privately, just with our families and our closest friends. The wedding blessings ceremony shall take place at The Taman Beji Griya Waterfall in the North of Ubud. It will be a water blessing.
Expect to get completely wet. Due to that, the dress code is simple: Clothes that can get wet, a swimsuit or bathers are fine, and a sarong. If you do not have a sarong, we can provide you with one.
You'll receive the details about the location, time, and date in your personal invitation.
---
You may ask: Why on such short notice? Because Komang kept saying:
"Keep your hands to yourself ...
... until I get the wedding ring!"
No, she is pregnant! Further, we chose this date, because it is the day after Komang's birthday.
We expect to have twins and want to give birth on Mars. That's why I asked Elon Musk:

Dear Elon,

My spouse Komang and me would love to give birth to our children on Mars. And we wonder, if you expect to have the spaceship ready in time? In time means, to arrive on Mars before March 6, 2023.

Vital and happy regards
Klaus Forster
---
But I haven't got an answer from him yet.
If we can't arrive on Mars in time, we probably have to go on our honeymoon to visit NASA in the United States and apply for our participation in their Mars simulation program. So that, the children can be born at least in a Mars simulator.
---
Please no material presents. We enjoy a rather frugal life, with a few material things, because that is very liberating. And we do not want to end up after the wedding with so many things, that we have to rent a second house to store them.
But if you want to bring a present, you may contribute to the party. Just bring a snack or a drink to share with the other guests. Or with a donation to the Prana Healing Charity Organization. Your donation will be used 100% to fund this Charity Organization. The intention of the Prana Healing Charity Organization is, to spread natural healing, and to overcome the blindness of modern medicine. Because we believe, that modern medicine only suppresses the symptoms of sickness with medicaments, without caring for their root causes. So that one needs the medicine preferably for the rest of the life.
---
We are looking forward to seeing you for the wedding!
Sinta & Klaus!