Thank you for your order:
1 copy (license) 
The price is free of VAT (sales tax) according to § 19 UStG (Kleinunternehmerregelung).
To receive your delivery in time, please transfer the amount right now, but the latest within 7 days.
Payment methods:
Bank transfer (inner German/Europe)
transferwise (international)
---
1. Bank transfer (inner German/Europe only, not recommended for international payments)
Direkt bank transfer from your bank account only from German (and some European) banks. International bank transfers are horribly expensive, please check the fees, if you intend to do so! To do the transfer directly from your online banking, use the following bank account details:
Recipient: Klaus Forster
IBAN: DE87100777770472851500
BIC/SWIFT: NORSDE51XXX
Bank Branch: Noris Bank, Germany
Amount: [As shown in your invoice]
Reference: [As shown in your invoice]
---
Transferwise (for international payments, low-cost, very quick)
For a low-cost international money-transfer, I recommend transferwise. To get started to use this link: https://transferwise.com/u/klausf34

Log in at transferwise with this link: https://transferwise.com/u/klausf34
If you do not have a transferwise account yet, you need to create one first. Then click on:
Send money.
1. Specify the amount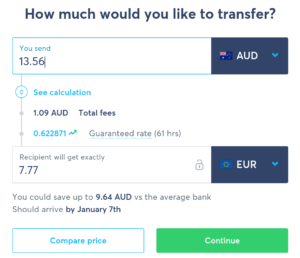 Switch the currency on You send to your currency (in this example AUD)
Switch the currency on Recipient will get exactly to US$ on the bottom and fill in the amount from your invoice (in this example 7.77)
Then click: Continue 
2. Specify the type of recipient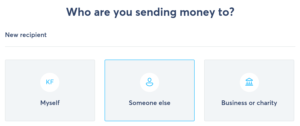 Click on:
Someone else
3. Enter recipient details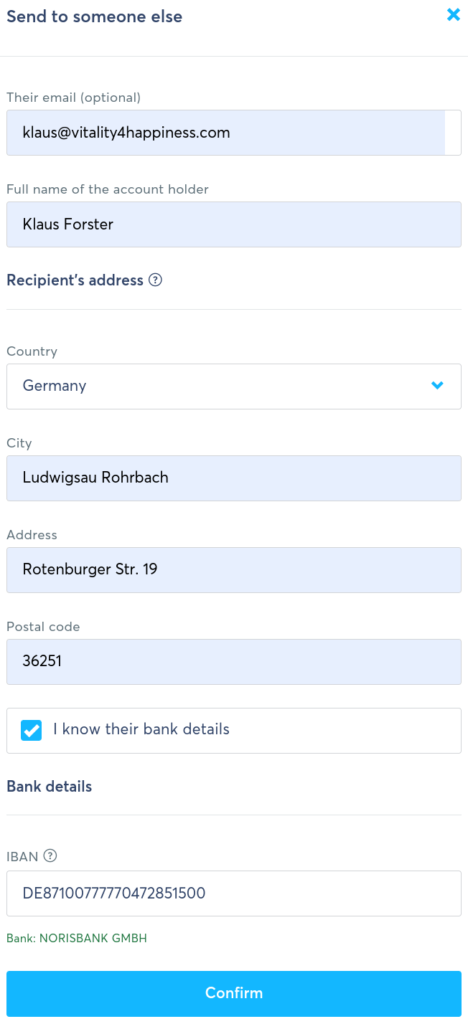 Send to someone else
Their email (optional)
klaus@vitality4happiness.com 
Full name of the account holder
Klaus Forster
Recipient's address
Country
Germany
City
Ludwigsau Rohrbach
Address
Rotenburger Str. 19
Postal code
36251
I know their bank details
Bank details
IBAN
DE87100777770472851500
Bank: NORISBANK GMBH
Click on: Confirm
4. Review and specify Reference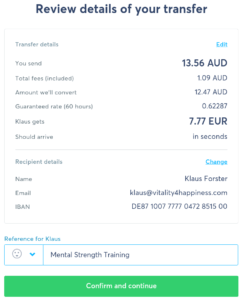 Review details of your transfer
Enter in the field
Reference for Klaus
the subject of your invoice:
[As shown in your invoice]
Click on: Confirm and continue
---
3. PayPal Payment
If you have already an account, you can transfer the amount via PayPal (which is a little more expensive than transferwise). To get started log in at https://paypal.me/vitality4happiness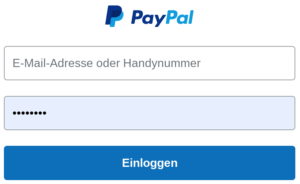 Only if you already got one. I would not recommend creating one only for this purpose.
Log in at your PayPal account
https://www.paypal.com/
Click on: Send & Request

then click on:
Sent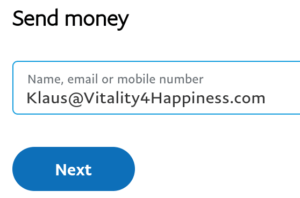 Send money
Name, email or mobile number
Klaus@Vitality4Happiness.com
Then click on
Next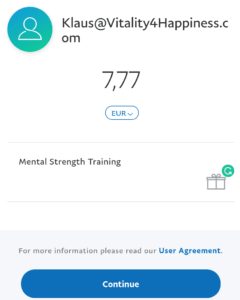 Enter the amount
[As shown in your invoice]
and set the currency to
US$
Add a note
The reference of your order:
[As shown in your invoice]
Then click on:
Continue
Preferably choose
Sending to a friend or family
(to avoid the fees)
14 days money back guaranty:
To withdraw this order, you need to send a mail with the Subject:
"Order Cancellation: With this Email, I confirm, that I have deleted all downloaded files, any copies of them, as well as the access data of this product."
to the Email address: Klaus@Vitality4Happiness.com