Networking at Dream Beaches, The Freedom of a Digital Nomad's Life
Author Klaus Forster
"Wow, are you on vacation?" – "No, I work here!"
A laptop and a reliable, fast WiFi are the only tools required for many self-employed people today. Due to this, they can work as so-called digital nomads and live wherever they like.
This freedom results in a happy life as an entrepreneur. And to experience that, it is necessary to be able to let go and be free from a mistaken belief. That one's own business can survive only through one's own work.
In this book, Klaus Forster describes how he has embraced the life philosophy, of the digital nomads. How he optimized and digitized processes so, that he is able to enjoy life in harmony with his work. This book is an homage and invitation for the self-employed, to go with him on a trip to Bali. Get inspired by his experiences, to create your own entrepreneurial life of freedom and happiness.
You receive one copy (single-user license) of "Networking at Dream Beaches" containing
your instant access to
Audiobook download (MP3)
E-Book Download (PDF) and
access to listen and read online
with 14 days money-back guarantee
and payment based on an invoice
with a simple international money transfer from other countries
Price:
9,99 €
The price is free of VAT according to §19 UStG (Kleinunternehmerregelung).
Order now:

Listen for free this sample chapter:
The freedom to work from wherever you want
At some point in life, we will have to make some decisions, that will affect our being. We belong either to the group of those who want to increase their wealth, expand their possessions and increase their status or renounce everything material and live only for life itself. Our social system and education suggest that only these two ways are possible. But remember, we always have the freedom of choice, to find and go the alternative way. This is not an 'either-or' decision. Being and giving are not mutually exclusive. They instead result in economic success, which arises as a natural and logical consequence.
Author of the book "Networking at Dream Beaches" Klaus Forster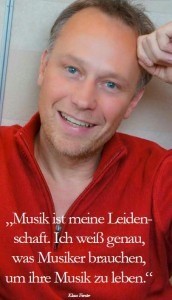 I, the music dream maker Klaus Forster, was 44 years old when I founded my company Rooms4Music in 2009 and started business operations in 2010. It is a typical "old economy" business, where I rent commercial space, in a very special market niche. I rent large spaces, which no longer meet today's standards and rent them out to bands and musicians as rehearsal rooms and recording studios. In fact, my business is nothing but a real estate agent and facility management, with the only difference being that my tenants are musicians.
At the same time, I was a caretaker and receptionist. I took care of the vocal equipment and amplifiers during the opening hours, set up the rehearsal studios and I did fill up the refrigerator with drinks.
In no way, I ever imagined that this business could be automated or virtualized in any way. I had to be present on the spot for thousands of reasons. I spent many hours every day at the rehearsal studios, and I was continuously thinking about the possibilities of structural improvements in this direction, which was always working in my subconscious mind.
Fortune or Focus?
Fortunately, I came across a book by Stefan Merath, that gave me a very special entrepreneurial way of thinking and helped me to develop my company vision "By 2022 the most successful German bands will be from Stuttgart".
Over the consequent years, I implemented most of the strategies and methods described in the book in my company. After a period of time, I was ready to take one week of remote work each month. At the same time, I discovered that traveling and the freedom associated with traveling were much more important to me than the music I originally wanted to support through my rehearsal studios.
Lessons learned
Even if your dream seems like an illusion, imaginary, or almost unreal, do not dismiss them! Within them is your true direction. Even if they seem remote from the "real" world, the core that dwells in them is what you long and strive for.
Start with a great goal that seems almost unattainable to you. e.g. like my vision that "By 2022 the most successful German bands shall come from Stuttgart". Your dream should be so attractive that it will give you drive and energy even in difficult times and will always give you the direction you want. Even if you cannot see the future because of the many tasks that lay ahead. Always live your big goal, your BIG PICTURE is worth everything. Always remember, concentrate on your vision, anchoring this goal in your heart. Daily!
Order now for
9,99 €

 and pay after delivery:
Networking at Dream Beaches, The Freedom of a Digital Nomad's Life
Just letting go and taking some time out seems to many self-employed and entrepreneurs an impossible dream: Yet without it, they sabotage the business altogether!
For Klaus Forster, fate had to start the turning-point of his life: after the death of his brother-in-law, the independent pro-renegade, dropped everything to stand by his beloved sister. From his own experience, he describes how he learned step by step the full benefits of a digitized world, automating business processes, and having a happy life in harmony with his work. A key experience was a workation in Bali, where he quickly moved his home office to the island to exchange knowledge with other self-employed workers, on a joint holiday and to get closer to his own vision, distancing himself, from the otherwise mundane tasks of his everyday life.
In his book, he gives valuable tips and encourages self-employed and entrepreneurs to be inspired by his story.
Order now with a 14-day money-back guarantee for 
9,99 €

:
Cancellation Conditions
You can cancel this order within 14 days after your purchase. To do so, just send an email:
"I confirm, that I have deleted all downloaded files, any copies of them, as well as the access data of this product."