Congratulations, you did it❣
You finished the task of your challenge. But please remember the challenge shall serve you. Your challenge is not your master. You are the master. Your challenge is your tool.
Do the part of each day, whatever serves you best.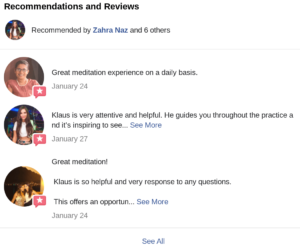 It should take you each day a little bit out of your comfort zone, to stimulate your growth. But it should not keep you busy all the time and mess up your complete day or life.😱
The next tasks will have even more content.
Choose what stimulates your growth 📈:
If you do just the meditations 🧘‍♂ good.
Or if you just do your gratitude practice, all is well.
If you do only the tasks 👍🏼 it is fine.
Or if you listen to the chapter from the book the 7 spiritual laws of success ☯ it is ok, too.
And on your day off, if you enjoy doing all of that 🙌🏼 go for it!
Take your next step to develop your business
Before your business can grow, we ourselves have to get better first. Setting business goals is important, but getting better to achieve even higher goals is even more important. As your business grows, you have two options.
Either you grow your personality and have success,
or your company grows over your head. And you will suffer, become a slave of your business, and might even end up in a burnout.
Your personal growth is central. That's why
Mental Strength Training – 8-Weeks To Turn Angst And Fears Into Gold
Vital and happy regards
Klaus Forster