Benvenuti alla sfida dei 21 giorni dell'abbondanza 2021 con le meditazioni del Dr. Deepak Chopra


Partecipa ai 21 giorni di attività dell'abbondanza Gratuito!
L'intenzione di questi 21 giorni di abbondanza è:
Creare un

mentalità per la carità

Contribuisci al mondo

con la tua attività

Attira l'abbondanza per te e per la tua attività
Esperienza una mentalità di gratitudine
Crea situazioni WIN-WIN-WIN tra te, i tuoi clienti e l'intero universo
INOLTRE ricevi il tuo REGALO quotidiano:
Una meditazione sull'abbondanza di Deepak Chopra!
---
NUOVO:
Inizio
con
il tuo
compito individuale
Hai già partecipato a una sfida dell'abbondanza? Ma si è fermato per strada? Nessun problema. Ora puoi scegli il giorno / compito # con cui riprendere!
---
---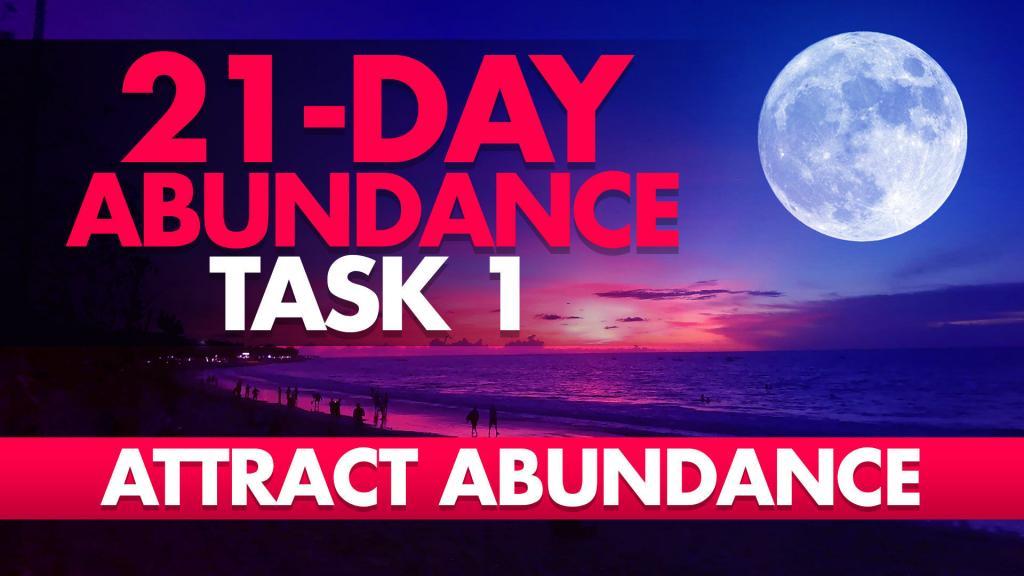 Start today with task 1, to work toward your abundance. And you're aiming to receive your 1st lesson for day 1 of 21. You will receive the subsequent tasks within the morning. Then you have 24 hours to complete the task. And your daily gift for the completion of each task will be a lovely meditation from Deepak Chopra.
---
La sfida dei 21 giorni dell'abbondanza con le meditazioni Deepak Chopra includono:
Settimana 1
Nella prima settimana prenderemo in considerazione la promessa del tuo illimitato potenziale imprenditoriale.
Durante questo periodo, impari cos'è la vera abbondanza:
La fonte infinita su cui tu e la tua azienda potete crescere.
Come la coscienza e la mente influenzano il suo sviluppo.
Infine, incarnerai come puoi capire profondamente quanto l'abbondanza sia il tuo diritto divino.
Settimana 2
Durante la seconda settimana, sperimenterai come l'abbondanza è collegata alle sette leggi spirituali del successo e cosa significano per te come imprenditrice donna consapevole.
Inizieremo con la legge della pura potenzialità.
Cosa è possibile esattamente?
E termina con la legge del karma.
Inoltre, come aumentare l'abbondanza nella tua vita, servendo l'umanità con le tue abilità e talenti unici.
Settimana 3
Nella nostra terza settimana, contemplerai gli aspetti pratici dell'abbondanza: la vera vita in abbondanza come il tuo stato naturale dell'essere.
Durante questo periodo esplorerai la profondità del destino sincronizzato.
Inoltre, manifestare consapevolmente il tuo destino sfruttando il potere della coincidenza significativa dell'intenzione.
Di conseguenza, incarnerai l'importanza di vivere con gratitudine. Perché la gratitudine porta alle relazioni con i clienti. Che sono spensierati, con amore e unità. Infine, per creare un ambiente di abbondanza nella tua attività.
21 Compiti e meditazioni per te:
Tutte le attività dall'attività 1 all'attività 21
Tutte le meditazioni dal giorno 1 al giorno 21
---
Domande frequenti sui compiti dei 21 giorni dell'abbondanza
Quali sono i 21 giorni di abbondanza?

The 21-Day Meditation Challenge was originally created by Oprah's Lifeclass and The Chopra Center. This is for you if you are ready to create the abundance in your life you've always dreamed of. Anything you can imagine or desire is already available to you, right here and now. Partecipa alla sfida di meditazione di 21 giorni per entrare nel tuo vero potere. E per attirare la vita più significativa che puoi sognare.
Cosa otterrai dal programma di abbondanza?

La sfida di meditazione sull'abbondanza di 21 giorni ti aiuterà a trovare ciò che ti limita. O dal raggiungere i tuoi obiettivi o dal vivere i tuoi sogni in modo inconscio. Perché il tuo subconscio prende tutte le tue convinzioni come verità. Oltre a ciò, farà tutto ciò che è in suo potere per realizzarli. Indipendente se queste credenze sono vantaggiose o limitanti. Quindi, i 21 giorni di Abundance-Program sostituiranno le credenze limitanti con quelle benefiche nella tua mente subconscia. Così, iscriviti qui.
Cosa significa abbondante? Come si crea abbondanza finanziaria?

De-clutter your wallet or purse. …
Collect all of your coins. …
Tell the money you love it. …
Place beautiful images of money in your awareness. …
Intention Setting is vital. …
Commit random acts of money kindness. …
Write yourself a check. …
Comportati come se avessi i soldi: diventa elegante.
Cosa significa finanziariamente abbondante?

Questo è il concetto di protezione finanziaria, sicurezza finanziaria, libertà finanziaria e assoluta libertà finanziaria. Questo concetto verrà spiegato in dettaglio e suddiviso in semplici passaggi riproducibili durante la sfida. Scopri di più su di esso e provaci adesso!
Sono questi i 21 giorni originali di abbondanza?

No, questa è una versione su misura, in particolare per le donne imprenditrici consapevoli. Inoltre, viene aggiunta una pratica di gratitudine per potenziare il seminterrato per la tua abbondanza.
Cos'è la meditazione e come meditare?

La meditazione è una pratica in cui un individuo utilizza una tecnica. Come la consapevolezza o focalizzare la mente su un particolare oggetto, pensiero o attività, per allenare l'attenzione e la consapevolezza. Oltre a ciò, aiuta a raggiungere uno stato mentalmente chiaro ed emotivamente calmo e stabile. Durante i tuoi 21 giorni di abbondanza, lo farai anche tu ottenere un'introduzione a come meditare.
Chi è il dottor Deepak Chopra?

Secondo Wikipedia, Deepak Chopra è nato il 22 ottobre 1946. È un autore americano nato in India e sostenitore della medicina alternativa. Inoltre, è una figura di spicco nel movimento New Age. Grazie ai suoi libri e video, è diventato una delle figure più note e ricche della medicina alternativa.

Saluti vitali e felici
Klaus Forster