👄📣🧏‍♀️ Enjoy listening to this podcast! Click the globe for 🇬🇧🇩🇪🇫🇷🇪🇸🇨🇳🇮🇪
Warum ich Marathons laufe?
Weil es alle Grundbedürfnisse erfüllt.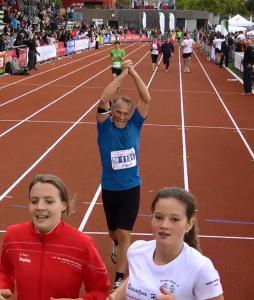 Wenn Du an der Ziellinie ankommst, bist Du eine andere Person, als die die am Start losgelaufen ist. Ein "Runners High" während des Rennens zu erleben ist wie Meditation, was sogar Dein mentales Wachstum fördert. Das Training dafür verwandelt Deinen Körper in eine Fettverbrennungsmaschine und sorgt für physisches Wachstum. Für das Grundbedürfnis nach Wachstum ist also gesort.
Die Herausforderung jedes Marathons ist ein Abenteuer: Schaffe ich es ins Ziel zu kommen? Diese Herausforderung erfüllt das Grundbedürfnis nach Abenteuer.
Etwas zu machen, was die meisten Menschen einfach nur für bekloppt halten, erfüllt das Grundbefürfnis nach Einzigartigkeit.
Und wenn ich mehrere Stunden am Stück laufen kann, dann kann ich auch länger beim Sex durchhalten. Ja, ich habe festgestellt, dass ich dadurch sogar ein besserer Liebhaber geworden bin. Also erfüllt es auch das Grundbedürfnis nach Sex. Und ich kann darüber hinaus besser zur Befriedigung meiner Freundinen beitragen. Also ist sogar das Grundbedürfnis einen Beitrag zu leisten erfüllt.
Die Ausdauer die man im Training aufbaut, gibt einem das Selbstvertrauen, dass man auch in anderen Bereichen länger durchhalten kann. Es ermöglicht sich höhere Ziele zu setzen. Und es gibt einem das Gefühl der Sicherheit, diese auch erreichen zu können.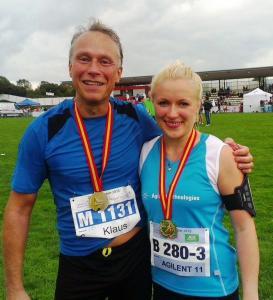 Während des Rennes genieße ich den Rythmus der Schritte und die Natur oder die imposante Architektur der Wolkenkratzer in den Städten. Der zusätzliche Sauerstoff klärt den Verstand und lässt einen klarer denken. Es macht den Körper stärker und attraktiver. Dadurch liebe ich mich, jeden um mich herum, die ganze Welt und das Universum noch mehr. Dadurch wird also auch das Grundbedürfnis Liebe erfüllt.
Während ich diese Zeilen schreibe, wird mir klar, dass laufen alle 6 Gundbedürfnisse erfüllt. Und da angeblich alles, was mehr als 3 Grundbedürfnisse erfüllt abhängig macht, muss ich mir eingestehen:
Ich bin süchtig danach!
Wie Vitality4Happiness alle 6 Gundbedürfnisse befriedigt (nach Tony Robbins):