👄📣🧏‍♀️ Enjoy listening to this podcast! Click the globe for 🇬🇧🇩🇪🇫🇷🇪🇸🇨🇳🇮🇪
Nicht Erfolg ist die Quelle des anhaltenden Glücks,
aber ewiges Wachstum ist es!
Darum handelt dieser Beitrag auch von der Quelle des Glücks: Wachstum!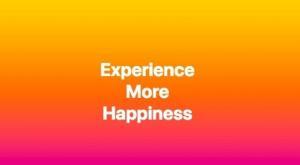 Zum glücklicher sein, müssen wir wachsen. Und die Wachstumsgeschwindigkeit ist proportional zu unserem Glücksgefühl. Wie können wir also unser Wachstum so gestalten, damit wir uns auf dem Weg glücklicher fühlen? Wenn Du hart im Fitnessstudio trainierst, was passiert dann mit Deinem Muskel? 💪 Stellen wir uns vor, Du trainierst mit einem Gewicht von 50 kg, bis Du keine weiteren Wiederholungen mehr schaffst. Du fühlst Dich erschöpft, kannst dabei aber stolz und glücklicher sein, dass Du es geschafft hast!
Du weißt, dass Dein Muskel am Tag danach schmerzen wird. Er ist übersäuert. Und solange er schmerzt, bist Du weniger leistungsfähig wie am Tag des Trainings. Daher kannst Du mit 50 kg nicht mehr die gleiche Anzahl an Wiederholungen machen. Vielleicht bekommst Du die Übung noch mit 40 oder 45 kg hin. Aber wenn Du Dich nach 2 Tagen wieder entspannst hast und sich Dein Muskel regeneriert hat, kannst Du die gleiche Übung mit 52 oder sogar 55 kg ausführen! So hast Du während der Entspannung einiges an Kraft gewonnen.
Also was ist passiert?
Nach Deinem körperlichen Training bist du schwächer geworden, aber nach einer Pause wurde Dein Muskel stärker! Dieses Prinzip ist für körperliches Training wohl bekannt. Und jeder weiß, wie man sich körperlich entspannen kann. Ein erfrischendes Getränk, die Beine hochlegen, eine Massage und was leckeres Essen, das reich an hochwertigen Fetten und Eiweiß ist.
Nun können wir von Sportlern lernen, das richtige Gleichgewicht zwischen Training und Entspannung zu finden. Wenn Du zu oft trainierst, sinkt Deine Kraft und Du beschädigst Deinen Muskel immer mehr und wirst schwächer. Aber wenn Du nicht oft genug trainierst, gewinnst Du einen viel geringeren Zuwachs als möglich. Ein gutes Timing für die nächste Trainingseinheit ist der Schlüssel zur Verbesserung der Wachstumsgeschwindigkeit. Für durchschnittlich trainierte Menschen ist 2 mal pro Woche gut für physisches Training. Wenn Du nicht trainiert bist, kann es 3-5 Mal pro Woche sein, aber das Training sollte weniger intensiv sein. Wenn Du gut trainiert bist, kann einmal pro Woche mit hoher Intensität schon reichen.
Warum trainieren Spitzensportler dann 2 Einheiten jeden Tag?
Sie konzentrieren sich bei jedem Training auf einen anderen Teil ihres Körpers. Kein Marathonläufer läuf zu seiner Vorbereitung auf einen Wettkampf zwei Marathonläufe pro Tag! Und wir können diese Strategie ebenfalls anwenden und das Training abwechseln.
Aber wie steht es mit geistigem Wachstum? Kann man dafür die gleichen Prinzipien anwenden? Natürlich kann man das. Aber die meisten Menschen verstehen nicht, wie man mental trainiert und mental entspannt.
Was ist mentales Training zum glücklicher sein?
Mentales training ist lernen, kreativ sein und – das wird Dir wahrscheinlich überhaupt nicht gefallen: Arbeiten unter Druck und Stress, z. B. die Teilnahme an einer Prüfung, einem Wettbewerb oder der Abschluss eines Projekts zu einem festen Termin! Alles, was Dich aus Deiner Komfortzone heraus bringt und Deine Risikobereitschaft erhöht. Wenn Dein Kopf heiß wird, weil Dein Gehirn all Deine Energie verbrennt, während Du Deinen eigenen kalten Schweiß riechen kannst.
Das ist der Stress, den Du als Auslöser für mentales Wachstum brauchst. Du bekommst daduch eine höhere Stresstoleranz. Ähnlich wie beim körperlichen Training, das den Muskel beansprucht und einen Wachstumsimpuls setzt. Und ja, das tut weh!
Um diesen Schmerz zu umgehen, versuchen die meisten Menschen Stress zu vermeiden, so dass sie kaum einen Wachstumsauslöser bekommen. Andere Menschen fühlen sich permanent gestresst. Sie fühlen sich unter Druck bei der Arbeit, haben Angst, dass der Steuerprüfer kommt, denken, dass die Kinder zu anspruchsvoll sind, dass sie keine Zeit und nie genug Geld haben! Sie sind in ihrer eigenen Tretmühle gefangen, wie ein Läufer, der täglich zwei Marathonläufe trainiert. Sie werden immer schwächer und enden schließlich in einem Burnout und haben Depressionen.
Wie entspannt man sich geistig zum glücklicher sein?
Dies kann durch Meditation, Atemübungen oder Schlafen, Tanzen und Ausdauersport erfolgen. Eigentlich alles, was Deinem Gehirn eine Pause gibt und wobei Du fast aufhörst zu denken 🤔. Klingt einfach, es ist aber gar nicht so leicht nichts zu denken. Besonders der Rem-Schlaf, bei dem es sich um die Tiefschlafphase handelt, in die man gleich nach dem Einschlafen und periodisch später in der Nacht kommt, schenkt Deinem Gehirn eine Pause. Deshalb kommt man auch mit einer Hand voll kurzer Schlafphasen pro Tag aus.
Wie findet man das richtige Gleichgewicht zwischen mentalem Training und Entspannung?
Wenn Du permanent arbeitest oder lernst und keinen Fortschritt mehr siehst, ist das wie der schmerzende saure Muskel nach dem körperlichen Training. Du fühlst Dich unwohl und versuchst, konzentrierter zu arbeiten oder zu lernen. Aber genau jetzt ist es die richtige Zeit sich auszuruhen! Du brauchst die Pause am meisten, wenn Du denkst, dass Du sie Dir am wenigsten leisten kannst. Es scheint so, als ob unser Körper klarere Signale gibt als unser Gehirn! Aber das ist nicht wahr. Besonders in der westlichen Welt bekommt man mehr Ansehen, wenn man gestresst und überarbeitet ist. Jedenfalls ist es höher angesehen, als wenn man eine Pause zur richtigen Zeit macht, schneller wächst und schließlich den Erfolg erntet. Dies wird dann eher als Glück beneidet! Es ist also eine schlechte Angewohnheit, die wir ändern müssen.
Rechtzeitig eine Pause zu machen ist "Good Airmanship"
Erfreulicherweise gibt es auch gute Beispiele für dieses Bewusstsein: Fluglotsen und Piloten werden geschult, auf ihre Ermüdungsanzeichen zu achten. Und man nennt es "Good Airmanship" wenn sie sagen: "Ich bin müde und ich ruhe mich jetzt aus." Dann übernimmt ein Fluglotsen-Kollege oder der Co-Pilot deren Aufgabe. Sie werden in ihrer Ausbildung dazu ermutigt, rechtzeitig eine Pause zu machen. Auch wenn das  hauptsätzlich zur Sicherheit der Passagiere, Besatzung und Fluggeräte, sowie für die Sicherheit des Flugverkehrs im Allgemeinen dient. Dennoch können wir diese Strategie für unser Wachstum und zum glücklicher sein nutzen. Um zu vermeiden, dass Du weniger stresstolerant wirst, musst Du die Angewohnheit des permanenten Stresses ablegen.
Für mich war es eine große Verbesserung, jeden Monat eine Woche Urlaub zu machen. Ich habe einen günstigen Charter-Flug mit einem einfachen Hotel gebucht. Und ich wählte die Termine in der Nebensaison und in einer preisgünstigen Region. Es hat also kaum mehr gekostet als mein Leben zu Hause. So habe ich angefangen, nur ein paar Stunden am Tag zu arbeiten. Während ich meine Tage mit Sport, Meditation und Spaziergängen am Strand verbrachte. Dabei schlief ich lange und genoss die Freiheit meines Geistes mit Abstand von der täglichen Arbeit.
Pausen einplanen zum glücklicher sein
Nach der Rückkehr wurde mir bewusst, wie große Fortschritte ich in meiner Abstinenz gemacht habe. Und noch besser: Ich war so glücklich über die gewonnene Effektivität, weil ich nach der Rückkehr nach Hause viele Dinge in kurzer Zeit organisieren konnte, die vorher viel länger dauerten. Das machte es mir leicht, mit meiner Gewohnheit des Dauerstresses und permanent beschäftigt sein zu müssen, zu brechen. Und ich nutze diese Praxis auch mit meinem Junk-Food-Tag an jeden Samstag. Denn immer nur das gesunde Zeug zu essen ist wie permanenter Stress. Am Junk-Food-Tag sagt mir mein Appetit, was in meiner Ernährung fehlt. Und am Leichtesten ist es damit zu beginnen, wenn man geplante Pausen macht. Alle 4, 6 oder 8 Wochen raus aus Deinem Arbeitsalltag. Mit diesem Training der Achtsamkeit wist Du lernen besser auf Deine Bedürfnisse zu hören. Und Du findest mit der Zeit Deinen eigenen optimalen Rhythmus zwischen Stress und Entspannung.