¡Bienvenido a la tienda de descargas de Vitality4Happiness!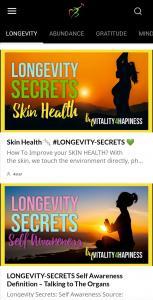 La aplicación LONGEVITY le proporciona actualizaciones diarias sobre
Consejos de entrenamiento físico adaptados para la longevidad (GRATIS)
Recomendaciones de nutrición saludable para extender su vida útil (GRATIS)
Meditaciones curativas para practicar la atención plena (GRATIS)
Desafío de 21 días de abundancia (GRATIS)
Reto de meditación de gratitud de 30 días (GRATIS)
Entrenamiento de fuerza mental de 8 semanas (opcional)
...
La aplicación Longevity es gratis

---
Prana Healing Yoga Bali
Prana Healing Yoga Training, Classes, Healing, Blessings, Retreats
Bienvenido a Prana Yoga Healing in Bali - Which is called 'the Island of the gods'
---
Desafío de meditación de abundancia
Atraiga abundancia para usted y su negocio
Crea una mentalidad de gratitud y abundancia
Experimente situaciones WIN-WIN-WIN entre usted, sus clientes y todo el universo
¡Desarrolle un hábito de meditación diaria, que recibirá como regalo por completar cada tarea!
Únase a las tareas de los 21 días de abundancia
La participación en el desafío de la abundancia esgratis

---
With the Gratitude Challenge 2020 - 30 Days of Gratitude Meditations and Practice, you will establish a habit of gratitude to
Reduce tus miedos
Gana más autoestima
Calma tu mente de mono
Cree una copia de seguridad, en caso de que vuelva a caer en los viejos hábitos
Desarrolle un hábito de meditación con una meditación guiada diaria, como regalo para la finalización de cada día.
Solo para mujeres emprendedoras conscientes
La participación en el desafío de la gratitud esgratis

---
Practica la gratitud para convertirte en un amante agradecido, feliz e incluso mejor
Las 12 meditaciones de gratitud te apoyan
Superar el miedo y el dolor
Refuerzo del estado de ánimo positivo
Activación de tu energía tántrica
Entrenamiento de los músculos del suelo pélvico para convertirse en un amante aún mejor
Práctica de gratitud por 12 aspectos fundamentales de la vida
Descarga de audiolibros MP3 Podcast para

7,77 €
---
En este libro, Klaus Forster describe cómo ha abrazado la filosofía de vida de los nómadas digitales. Cómo optimizó y digitalizó los procesos para poder disfrutar de la vida en armonía con su trabajo. Este libro es un homenaje e invitación para los autónomos, para que lo acompañen en un viaje a Bali. Inspírate con sus experiencias, para crear tu propia vida empresarial de libertad y felicidad.
Audiolibro, libro electrónico y videos para

9,99 €
---
Entrena tu fuerza mental para
17,77 €
---