Dankbarkeit, Dankbarkeit! Warum Dankbarkeitstagebuch schreiben?

Quelle: Warum Dankbarkeitstagebuch schreiben auf Youtube
Dankbarkeit, Dankbarkeit! Warum fordere ich dich auf, jeden Tag Dankbarkeitstagebuch zu schreiben?
Lass mich dir eine Geschichte erzählen. Als ich zum ersten Mal im Oktober 2016 auf Bali ankam, hatten wir Unterkunft und Roller für 12 digitale Nomaden gebucht. Und wir kamen in unserer Unterkunft an und alles war prima. Aber es waren keine Roller da. Nun, mit deutschem Perfektionismus, dachten wir: "Die verdammten Asiaten. Sie haben es nicht hingekriegt!"
Also rief jemand aus der Gruppe den Roller-Vermieter an. Und die sagten: "Die Motorroller werden im Laufe des Tages ankommen. Macht euch keine Sorgen! "
Ca. 2 Stunden später: Die Helme lagen auf dem Tisch und die Schlüssel direkt davor. Und keiner von uns hat jemand von der Rollerverleihfirma zu Gesicht bekommen. Also unglaublich, die fragten uns nicht nach:
einem Imprint von der Kreditkarte
keiner Anzahlung
keinen Vertrag zu unterzeichnen.
Sie wollten weder unseren Führerschein sehen, noch unsere Personalausweise.
So fing an ich mich zu wundern. Denn ich war tief beeindruckt! Wie kommt es, dass diese Balinesen uns so viel Vertrauen und Glaubwürdigkeit schenken? Ohne uns Ausländer aus Europa zu kennen. Nun, es hat mich zum Nachdenken gebracht!
Und ich fing an zu beobachten:
Wie leben die Balinesen?
Und wie denken sie?
Und was sind deren Werte?
Aus Dankbarkeit entsteht Vertrauen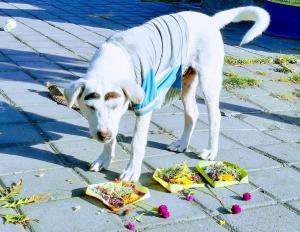 Und dann habe ich herausgefunden, dass sie dreimal täglich ein Dankbarkeitsritual haben! Darum ich denke, dieses Dankbarkeitsritual prägt ihre Gedanken. Dadurch habe ich festgestellt, dass die Balinesen fast ohne Angst leben! Nun, es ist wahrscheinlich nicht die vollständige Antwort. Aber ich denke, dass das Dankbarkeitsritual
jeden Morgen,
jeden Mittag
und jeden Abend
einen guter Teil dieses Vertrauens prägt, um ein fast Angst-freies Leben zu führen. Um in der Lage sein, uns Ausländern so viel Vertrauen zu schenken.
In der westlichen Welt, erlebe ich geradezu das Gegenteil:
Jeder braucht eine Versicherung für jeden verdammten Unsinn. Wir suchen Sicherheit und Gewissheit …
Ich denke: Dies endet als ein Leben mit Mangel-denken und Angst! Und ich fand: Diese Dankbarkeit hilft, um da raus zu kommen! Deshalb möchte ich, dass du das
Dankbarkeitstagebuch
täglich schreibst. Schreibe fünf Dinge in dein Dankbarkeitstagebuch, für die Du dankbar bist.
Ich habe dieses Jahr lange nachgedacht über meinen Lebenssinn. Und nach sechs Wochen recherchieren über
meine Werte und
mein Lebenszweck.
Ich fand heraus: Das Dankbarkeit in die westlichen Welt zu bringen ist ein Teil dessen, wofür ich hier bin.
Und deshalb: Fordere dich immer wieder heraus 5 Dinge in deinem Dankbarkeitstagebuch aufzuschreiben, für die du jeden Tag dankbar bist.
Schreibe 5 Dinge auf, für die Du dankbar bist.
Denn mit wachsendem Selbstvertrauen, aufgrund der Dankbarkeitsübung, verschwinden Gefühle von Hilflosigkeit und Angst.
Master Fears And Worries – Master The Crisis to Finish as a Winner
So wie Hitze Eis in Wasser verwandelt,
verwandelt Dankbarkeit Angst in Fülle!
Vitale und glückliche Grüße
Klaus Forster