Originally posted 2020-08-13 22:18:22.
Ramadan at the Ramada

Couchsurfing Experiences in Malaysia, source Mr. Drone
I made new couch surfing experiences in Malaysia at the Ramada Hotel. With an amazing view over the skyline of Kuala Lumpur.

That's funny because it's Ramadan. The apartment I booked through Airbnb and the whole apartment did not even cost 27 €! Couch surfing can give experience to individuals about the way of living with local people.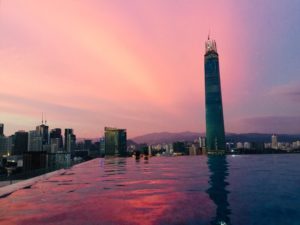 And to live with locals makes a big difference. You get much more of their way of life. And you get tips that are not in any travel guide. I have already made very good couch surfing experiences. Like changing my itinerary in Singapore in February to fly to Phuket together with my host and her girlfriends. Booked in the evening, flying together the next morning to Thailand. Therefore, today I would like to recommend AirBnB.
If you do not have AirBnB account yet, you can get access using the following link: www.airbnb.com
Plus you will receive a 25 € credit for your first booking! But there is a lot more interesting stuff here:
What can you learn from your couch surfing experience?
How to connect only through one middleman between the guest and the landlord. This is awesome and is similarly done at Uber, Go-Jek, and Greb. The value chain is short and without high costs or commission. The most amazing thing about it is: The frontend of the AirBnB-webpage looks like it is programmed with love 🙂 Look at booking.com and you see a webpage that is programmed with greed 🙁
Expensive couch surfing experience in classic sales channels
This is very different from the traditional distribution networks. The manufacturers sell their products to the export enterprise, they resell it to the shipowners. They sell it to the importing enterprise, who then delivers the goods to the wholesaler, he distributes it to the shops of the retailers. And finally, the consumer buys or orders his product there. How many middlemen? Too many!
Couchsurfing experiences at the fuel station
You do not want to know how many times the petrol has changed hands until it ends up in your tank! As of today, one barrel of crude oil costs 64 €, that is 159 liters per barrel or equals to 0.40 Euros per liter. At the petrol station, you pay over 1.40 € which is a surcharge of 250%! There are of course transport and processing costs, but most of it goes for the profit margins of middlemen. And have you ever been curious about the fact, why the fuel did cost about 1.20 € even in times when the barrel was traded for only US$ 30? Back then the surcharge was over 400%!
MLM Couchsurfing experiences
That's almost the same with multi-level marketing (MLM) systems. Even if the producer delivers the pills directly to the end-customer, there is a long sales channel of the MLM freelancers. All of them get a commission out of the turnover. That's why selling in an MLM system is only possible for products with an incredible sale margin, such as nutrition supplements. They are getting sold with arguments like: "Your health should have a higher value than 2 € per day to you." The manufacturing costs of the pills are in the mEuro range (1/1000th of a Euro). But I have already written about the Minerals in Food.
The business model for good couch surfing experiences
With your business idea, you want to think about this question: How can I remove all of the middlemen? Uber, AirBnB, Greb, and Go-Jek have one thing in common:
They do not own the infrastructure to produce or deliver their products.
Uber doesn't own any cars that drive as taxis.
AirBnB does not have buildings, which is used as a hotel.
Greb does not own scooters that are used for public transportation,
and Go-Jek does not even have pizza ovens, but most likely the deliver the most pizzas in the world!
How can YOU become the AirBnB in your business field?