Goals 2021
for Confeneurs (=
Con

scious

Fe

male Entrepre

neur

s)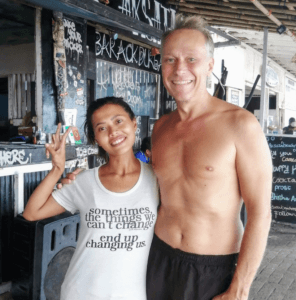 Christmas is over. I spent a quiet time between Hindus and Moslems in Bali, and I hope you got your mind cleared spending a good time with family and children, in case you are celebrating Christmas. And now the New Year has started. A good time for you to look back on the past year and dream ... or to plan and set goals for your next year.
While writing those lines, this cute Indonesian sunshine crossed my way. And her Tshirt inspired the following thoughts. Here are some tips for you:
2021 Goals # 1: Your vacation
Ideally, you should start planning your family vacation first. You are probably aware: If the vacation is not planned and booked, something more urgent will come up for you, as an entrepreneur. And then the vacation is shorter or does not take place at all. Without charged batteries, 2021 will not be a great success for you. That's why: Plan your vacation and book it first of all! If you can't make up your mind, where to go ... ask me. But you probably already can guess, what will be my recommendation!
2021 Goals # 2: Your training
The second thing you should plan is your training. Otherwise, this becomes a victim to the urgent things! Why education? Well, very simple: Before things can get better, we ourselves have to get better first. Setting goals is important, but getting better to achieve even higher goals is even more important. As your business grows, you have two options.
Either you grow your personality and have success,
or your company grows over your head. And you will suffer, become a slave of your business, and might even end up in burnout.
Your personal growth is central!
At the end of the blog, I have an offer for your personal growth (with a discount for a limited time, because I am running this training for the first time). For a fulfilling and successful year, 2021!
2021 Goals # 3: Your qualitative and quantitative goals
Third, you should set the goals for your company:
Qualitative, for example, new products, a better corporate culture, and also
Quantitative, for example, profit or financial reach.
As you know me: I will not convince you to strive for a 5 % growth. No one dreams of marginal growth. What do you REALLY want to achieve next year? Where would you have to be at the end of the year to be able to say "2021 was MY year!"?
Reality check for your 2021 Goals
Finally, do a reality check: Can you do it with your available time, energy, competence, and capabilities? Are your personal resources sufficient to be able to plunge fully into the realization of your annual goals? Where do you need to set the priorities? For example: Cut the unimportant, less inspiring goals to pursue your real ambitions ones at full throttle? Will it be enough? Probably not?
It is interesting that many entrepreneurs only set goals without a reality check. The reason is, this would cause pain. But the pain comes anyway: Either now, or if it is not feasible in reality, by the end of the year. So, it is better to go through this discomfort right now.
Otherwise, this happens:
How about if you could make it happen?
What if your personality became a supportive force to unleash your dreams? How about if you could take care of the growth of your company - product development, enthusiastic customers, expansion, additional employees ... Instead of constantly worrying that there are enough resources for the next salary payments?
Since 2009 I have been working according to very specific principles in personal growth as an entrepreneur. During this time, I continued to train myself. Since then I have been making profits every year, taking the time to think and constantly working on my dreams and goals and have the financial means available to realize these dreams - even if one or the other dream shouldn't work out.
What do entrepreneurs like you and I need?
Some time ago I sat down and gathered what entrepreneurs like you and I need to have the personality and energy. Especially in critical times, to enable you to follow up on our goals. I came up with the following points:
A high inner status: Because the next crisis will come. With sufficient personal energy and strength, you will stay at the wheel in economic or corporate crises. And can even benefit from it.
Knowledge of the company-specific key figures: Those who do not know their key figures make wrong decisions and slip into bankruptcy faster than they can see. Ideally, key measures with which allow you to look into the future and which you observe without additional effort.
There will be times when it is a question of your company's survival, and at times when you can recognize and take advantage of a unique opportunity. You need to be able to take a big decision with an uncertain outcome.
The ability to convince employees and customers: Such as new product developments, take over a competitor, etc. Because the ability to understand and convince other people is one of the most important skills of an entrepreneur.
All of that requires mental strength. That's why I recommend you to participate in the mental strength training. But I understand, that your concern might be, that the training will interfere with your 21- day abundance challenge or your 30-day gratitude challenge?
No worries, we will start after the abundance challenge is over. And gratitude will certainly be a part of it. So you won't break your routine due to it, but incorporate it smoothly instead!
The result of these considerations:
The Mental Strength Training will be held from January 22nd to March 18th, 2021. In this training, I am going to share the best knowledge I have on this topic with you. A mental strength training especially for conscious entrepreneurs, not for bureaucrats! If you want to have the freedom to fully achieve your goals, you shouldn't miss this training in 2021! So that you can say by the end of the year: "2021 was MY year!"
Get into action - now!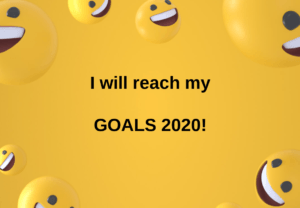 Do you know the 72-hour rule? This says that if we don't act within 3 days, we are unlikely to do what we set out to do. It is important to me that you come into action, you will receive an early bird discount on the regular seminar price for a limited time only. Take the opportunity to pursue your dreams and goals even more resolutely in 2021!
For a fulfilling and successful year, 2021!
For € 5.44 only

instead of 7.77 €!
30% early bird discount, only until January 12, 2021
(Midnight GMT/UTC).
Master Fears And Worries – Master The Crisis to Finish as a Winner
Your Thinking Time For Today:
Write down five things you are grateful for
Like Heat Turns Ice Into Water,
Gratitude Turns Fear Into Abundance!
Vital and happy regards
Klaus Forster
PS: Only for a limited time, you will receive an early bird discount! Secure your participation now at the Mental Strength Training 2021! For a fulfilling and successful year!